Artesian Spas diving into UKPSE hat-trick
Artesian Spas will be diving into a hat-trick of exhibitor appearances at the UK Pool & Spa Expo to highlight enhanced hot tub options and a new model boost for the TidalFit range.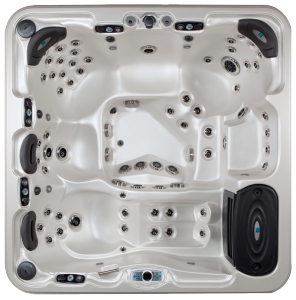 The booming hot tub brand from May Manufacturing, producers of the 2014 WhatSpa? Best Buy Award-winning South Seas 518P, Island Antigua 33 and Platinum Elite Dove Canyon, pictured, is among a number of loyal exhibitors appearing for the third consecutive time during the wet leisure showcase, running from January 22 to 24 in Hall 10 at the Birmingham NEC.
Following up product promotion success at the International Pool Spa Patio Expo in Florida, and Piscine Global in France, representatives from the Doncaster-based European distributor will be looking to build on 2014 retailing success by showcasing enhanced hot tub models and new TidalFit options for 2015, which are joining the swim spa stable that includes the WhatSwimSpa? Best Buy Award-winning TidalFit EP-14.
Making its debut this year will be a powerful TidalFit Active EP-12 Above Ground model, which comes in at 366 x 231 x 114cm and has a water capacity of 4,921L. It has a dry weight of 794kg and a filled weight of 5,711KG. The Active Plus EP-12 has the option benefit of being available as an Above Ground or Semi In-Ground model.
A new Power Plus EP-16, which comes in at 487 x 231 x 152cm has also been launched for 2015 as the first hydraulic propeller TidalFit model with a Variable Current Swim System that provides nine times more flow rate than traditional swim spas. It has a water capacity of 8,328L, a dry weight of 1,588KG and filled weight of 9,910KG.
"Our new 12ft model is very powerful for its size and we are officially launching it to the market at the UK Pool & Spa Expo," said Artesian Spas Director Victoria Wrigglesworth.
"We are looking forward to attending this event again and will also be using our third consecutive appearance at the exhibition to promote the new fully-integrated Bluetooth system within our Island and Platinum Elite ranges, which will come as standard.
"Because it is now internal within the hot tub itself, there is no side unit involved in production so customers no longer will have any issues with decking around the side of these new hot tubs."
Artesian Spas has already signed up new dealers for this year and will be looking to promote the brand's extensive product choice in the Platinum Elite, Island Spas, South Seas Spas, Garden Spas and TidalFit ranges to prospective retailers during the three-day event.
The UKPSE exhibition will also provide an opportunity to highlight the enhanced South Seas range that has been extended with the imposing 965L. Coming in at 274 x 231 x 91cm, it has been designed with seating capacity for eight people and is the largest model in the Deluxe Class of the flourishing South Seas stable of models.
Once again the Artesian Spas dealer network in the UK has produced increased annual sales figures and new dealers will be joining their retailing counterparts this year after contacting the distributor following the Hot Tub Britain documentary by ITV, which was aired in September.
"We had a fantastic year of sales in 2014 and have surpassed our 20 per cent increase of 2013 by a big margin," said Victoria.
"Our new models and enhancements were well received and overall most of our UK retailers have performed highly to produce improved annual sales figures.
"As a result of the Hot Tub Britain programme we have had huge amounts of calls and online applications from potential retailers and will be bringing some new dealers on board."
For further details about how to become an Artesian Spas dealer, or for comprehensive product material on the wide range of hot tub and swim spa options from the USA manufacturer, visit Stand 320 at the UK Pool & Spa Expo.
Opening hours for the first two days of the UK Pool & Spa Expo, on January 22 and 23, will be between 10am to 5:30pm. On Saturday, January 24, the third and final day of the UK Pool and Spa Expo is the Consumer Day that will be staged between 10am and 3pm for exhibitors in Hall 10 to meet with members of the public as well as trade representatives.
www.tidalfit.co.uk
www.ukpoolspa-expo.co.uk