Coast Spas officially launch Wellness Infinity
Coast Spas officially launched the world's first, and only, infinity edge portable swim spa to its global retailer network at the 19th annual International Dealer Meeting (IDM).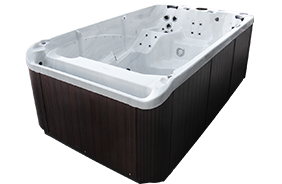 During the record-breaking attended IDM, hosted at the Sheraton Wall Centre in Vancouver, Coast Spas gave the audience a comprehensive insight into the innovative production features of the 'Wellness Infinity' that will be appearing in the UK this year to capitalise on the demand in the flourishing swim spa market.
Coming in at 408 x 229 x 135cm with a non-float lounger among the three seats adjacent to the swim area, the unique design feature of the Wellness Infinity is the vanishing, or infinity, edge; which the Canadian manufacturer has successfully incorporated in its popular Cascade Series of hot tubs, including the 2014 WhatSpa? Best Buy Award-winning seven-seater Luxury Cascade II that comes in at 234 x 256 x 102cm (119cm at the back).
With more than 28 powerful hydrotherapy jets, multiple laminar water ropes, air control toggle switches, color touchscreen controls and buoyancy simulating Levitator Jets, the Wellness Infinity; which joins the Wellness Spas swim spa stable that includes the 2014 WhatSwimSpa?  Best Buy Award-winning Wellness II model; is a fully loaded luxury swim spa.  It has a dry weight of 998KG and a filled weight of 6184KG for the capacity of 5200L.
The advantage over other swim spas is that the innovative feature of the Wellness Infinity provides users with a barrier-free perspective while swimming.  The infinity edge is positioned above the powerful swim-current producing 'River Jets', which are also incorporated in the Wellness II, allowing the swimmer to have an un-interrupted view of their environment while exercising.  
In addition to the aesthetic benefits of an infinity edge, the Wellness Infinity has extra functional superiority over a traditional swim spa; such as zero water displacement, enhanced skimming power, a gigantic overflow waterfall and the absence of noisy, bobbing telescopic skimmers.
Built for users wishing to boost their health and wellness, the Wellness Infinity comes ready to attach exercise bands, rowing bars and a swim tether. 
The Wellness Infinity will be available with the choice of Unstained Cedar, Redwood, Grey, Black and Clear Satin cabinet finishes to complement the Sterling Silver acrylic.
It has partial foam insulation and is standard with a pressurised commercial-grade Hydro Cyclonic Filtration System with 175 sq.ft. filter, which Coast Spas is promoting as the very best swim spa filtration system available.
www.coastspas.com
www.wellnesshottubs.com