Collaboration with Canadian manufacturer
Catalina Spas Ltd have joined forces with Coast Spas Manufacturing to provide customer service excellence and spearhead growth of the Canadian hot tubs and swim spas in the UK.
Trading as Coast Spas UK, Salisbury-based Catalina Spas Ltd aims to enhance the customer experience and strengthen dealer relationships for the brand that gained international prominence with innovative and high quality production; including the hot tub infinity edge concept that it incorporated into swim spa designs such as the Wellness Infinity Ultra2 model, pictured, a 24" Waterfall, and a Hydro Cyclonic Filtration System.
Experienced hot tub and swim spa retailer and distributor Stephen Crabb, who established Catalina Spas Ltd in 1997 and also runs Aqua Design and Leisure, expressed enthusiasm for his latest brand collaboration after gaining multi-brand success in the UK market with Catalina Spas, Dream Maker Spas, Solstice Leisure Spas, and additional HSG282 compliant holiday hot tub options.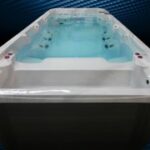 "We are thrilled to be joining forces with Coast Spas Manufacturing," said BISHTA Technical Committee member Stephen,
"Their reputation for manufacturing high-quality, feature-rich hot tubs aligns perfectly with our commitment to delivering excellence to our customers. We look forward to a successful collaboration that will benefit all stakeholders involved."
Coast Spas Manufacturing Vice President of Sales and Marketing Sean Corscadden believes the new collaboration will provide a significant benefit to the dealer network and customers in the UK.
"We are extremely excited about this new partnership with Catalina Spas Ltd," revealed Sean.
"Their extensive experience and established network in the UK hot tub market make them the perfect partner to help us further expand our presence and reach in the region.
"We are confident that this collaboration will not only benefit our brands but also provide significant value to our dealer network and customers."