Early offer for President's Weekend
Time is running out to take advantage of an 'early bird' deal to celebrate the time in office of BSPF President Pete Grinnall during a weekend in Birmingham.
BISHTA member and WhatSpa? Professional Pete, who is Managing Director of Artesian Spas, TidalFit, and Marquis Spas specialist dealership Complete Spas based in Pinvin, is hosting his President's Weekend from September 15 to 17, 2023, at the Saint Paul's House Hotel, The President's Weekend package cost is £325.00 per person and includes bed and breakfast at the Saint Pauls House Hotel, Friday and Saturday, welcome drink and dinner on Friday night, a guided tour on Saturday morning, and dinner and entertainment during Saturday evening.
To take advantage of the 'early bird' rate of £299 per person, inclusive of VAT, for the whole weekend, bookings should be made before Friday, June 16.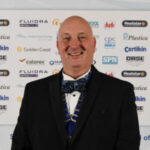 The weekend begins on Friday afternoon when Chris Hayes (BSPF Managing Director) and Jan Hardy (BSPF Office and Member Services Manager) welcome you to the hotel. On Friday evening, guests are invited to join ISPE technician and Accredited Training owner Pete, pictured, for a welcome drink and dinner in the hotel restaurant.
On Saturday morning, a walking guided tour is planned to discover the 'real' history of Birmingham city centre and delve into the city's character's, hosted by Professor Carl Chinn, MBE PhD. Professor Chinn is a historian, writer and broadcaster devoted to exploring Birmingham's social history. He has specialised in researching and telling the stories of the hardships of the underprivileged.
The great-grandson of a real 'peaky blinder' and the son and grandson of illegal street bookmakers, he is the author of 34 books, including studies of working-class housing, Birmingham, the Black Country, and illegal bookmaking. His book, Peaky Blinders: The Real Story, the true history of Birmingham's most notorious gangs, was a Sunday Times number one bestseller in 2019.
Following the morning tour, guests can enjoy free time with a stroll through Birmingham's city centre squares and streets to find fabulous shops and restaurants, fantastic street entertainment and stunning architecture, with some retail therapy at the iconic Bullring, with diverse high-street fashion, household shops, and restaurants.
For those wanting to discover additional areas of Birmingham, a range of suggested locations will be available in the guest welcome pack on arrival. It should be noted that bookings can also be made at the price of £325.00 per person after the 'early bird' deal until the closing date on September 1, 2023.
To obtain additional information about the weekend contact Jan Hardy at the BSPF via email at: Jan@bspf.org.uk or directly on 01264 356 210