Flagship water treatment technology at SPATEX
BIO-UV Group is ramping up promotion activities to increase its presence in the wet leisure sector ahead of highlighting flagship water treatment technologies as an exhibitor at SPATEX 2023.
Founded in 2000, BIO-UV Group specialises in designing, manufacturing and marketing water treatment systems using ultraviolet radiation (UV-C), ozone, AOP and salt electrolysis for various applications. These include swimming pools, spas, aquaculture, aquariums, industrial process water, wastewater and drinking water.
Inspired by nature, the group harnesses UV-C technology to destroy bacteria, including Legionella, and this water treatment process will be among products and services being showcased on the BIO-UV Group stand during SPATEX at the Coventry Building Society Arena, running from January 31 to February 2.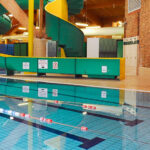 The company, which has been listed on the stock exchange since July, 2018, has a consolidated turnover of 44.3 million euros and has a current workforce of 150 employees, which is servicing a large global customer base with 50 per cent of the group's sales being exported.  UV technology customers include the Kennet Leisure Centre in Thatcham, pictured, and Ozone technology customers include the London Aquarium, and Scotland's Skibo Castle.
In 2011, BIO-UV Group incorporated ships' ballast water treatment to its range of products that are manufactured in its specialised production sites in Lunel and Muret, in France, and also in Glasgow. This provides prompt response to the specific requirements of its international customers.
BIO-UV Group now aims to expand its growth and customer base even further by showcasing its 'made in France' and 'made in Britain' mark of quality during SPATEX 2023 in order to strengthen its presence in the wet leisure market in the UK and throughout Europe.
To build on its reputation in UV water treatment, salt electrolysis, ozone and AOP specialism, BIO-UV Group acquired triogen in 2019 and Akeron is also part of the group, since the acquisition of Corelec at the end of 2021, and this relationship with the French salt electrolysis specialist was promoted at Piscine Global 2022 in Lyon.
Ahead of the Piscine Global exhibitor appearance Chairman and CEO of BIO-UV Group Benoît Gillmann highlighted a massive period of growth and a record level of bumper orders.
"As we change dimension and enter a new growth cycle, I am extremely proud of the full team, with the success of our strategy and our growth," said Benoît.
"Despite the global challenges over the last two years, our team has delivered a total growth of +172 per cent since 2018, averaging over 28 per cent annually. We have never enjoyed such a very strong orderbook."