Hot tub and associations praise
Hot tub product companies and leading wet leisure associations have showered SPATEX organisers with extra praise for launching the first ever 'Spa Day' that helped to generate quality leads for exhibitors during the second outing for the event at the Ricoh Arena.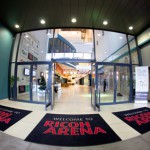 With SPATEX gearing up for its special 20th anniversary milestone exhibition, running from January 31 to February 2 next year at the Ricoh Arena, Ross Alcock of the Institute of Swimming Pool Engineers (ISPE) has reported that this year's workshops were well attended in the dedicated areas hosted at the rear of the Jaguar Exhibition Hall.
As well as the traditional workshops and water care training, ISPE helped to organise the special training sessions for hot tub and swim spa retailers during the inaugural 'Spa Day' on the third day of SPATEX, which also helped to boost the overall attendance figures, and Ross revealed that over 430 delegates had taken advantage of the expert tuition and guidance over the three days of SPATEX.
"We were delighted to feature a number of new topics and speakers and, as is often the case, some delegates attended many sessions over the three days," said Ross; "It's interesting that most delegates requested attendance certificates.
"This shows that there is a great demand, not just for these presentations and the information all supplied free of charge, but also that the delegates want to be able to demonstrate their commitment to keeping themselves up-to-date by obtaining their attendance certificates.
"The ISPE workshops have proved to be an integral part of the success of the SPATEX story and we look forward to SPATEX 2016, which is now less than a year away!"
Brian Guthrie of the Pool Water Treatment Advisory Group (PWTAG) reported that the independent organisation's conference at SPATEX was a success after hosting a wide range of wet leisure representatives. He revealed that it is likely to be repeated when the exhibition returns to Coventry for its third appearance at the Ricoh Arena.
"The PWTAG Conference at SPATEX 2015 was a resounding success, attracting an audience drawn from a good cross section of wet leisure disciplines from leisure managers to environmental health officers and hoteliers," said Brian.
"The technical seminars were warmly received as an excellent source of industry training and all free! Next year, PWTAG hopes to be able to build on this success and mount another conference at SPATEX."
Representatives from the Swimming Teachers Association (STA) also praised the SPATEX organisers and Theo Millward confirmed that the association will be working with SPATEX for its 20th anniversary exhibition next year, following a well attended seminar this time round.
"Such was the success of the show, I can confirm that SPATEX is the only dedicated wet leisure exhibition that STA will be working with next year," said Theo.
"We were impressed with the size of the stands and felt this year's show was much more representative of the wet leisure industry as a whole than it has ever been in the past.
"The STA seminar was well attended and for us, it was a very worthwhile event. I would like to say well done to Michele Bridle and her hard working team."
Like many loyal wet leisure trade visitors, Keith Moody of La Paloma Contracts in Spain makes an annual trip to SPATEX to enhance his knowledge of products and receiving addition training at the exhibition and praised this year's event.
"Each year I come over from Spain to attend SPATEX, not just for the exhibition and display of new products but also for the seminars and workshops," said Keith.
"Living and working as I do in Spain, it's important to keep up to date with all the industry training, education and standards and SPATEX is an unparalleled free source.
"For me, this year's stand-out seminar was one on how social media can enhance your business by GoldenCoast's Marketing Director Aren Grimshaw. The knowledge that I gleaned from that alone was worth the cost of the trip!"
Loyal SPATEX exhibitor and Spa Crest Europe Managing Director Tony Welsby used the event to launch his new distribution deal for the Tuff Spas hot tub range to British retailers and praised the organisers for launching the Spa Day training workshops, which he reported had generated extra enquiries.
"The dedicated Spa Seminar and Workshop Day on the Tuesday was an ingenious idea and brought a lot of extra spa business to the stands," said Tony.
"It was also very interesting to see genuine retail enquiries and sales over the duration of the show too. The exhibition was reassuringly good and we did a lot of business in the three days."
Certikin International Marketing Manager Cath Saunders, who helped to promote the company's exclusive distribution deal for the Caldera Spas hot tub range and launch of the new Fantasy Spas entry-level hot tub models from Watkins Manufacturing at SPATEX this year, has also heaped praised on the exhibition's organisers after reporting high levels of footfall and lead generation.
"Right from the build-up to break down, SPATEX 2015 was well organised with all operations running like clockwork," enthused Cath.
"The SPATEX team, led by Michele, did a fantastic job and nothing was too much trouble. The spectacular effort that was put into the stands and the overall look paid off with the show having a very professional air.
"We had some high quality leads and the Certikin stands had steady footfall throughout the three days."
Richard Carrington reported that the Calorex stand had secured excellent commercial leads during the three-day exhibition.
"SPATEX 2015 had a different feel about it and it was really good," said Richard.
"Quality visitors, new faces and in particular some excellent new commercial leads, which all added up to a great show for Calorex. I congratulate Michele and the SPATEX team."
Wet leisure product specialist company Golden Coast was another loyal exhibitor that enjoyed high levels of footfall and Managing Director Jamie Adams revealed he had been impressed with the interest from hot tub retailers and pool specialists.
"Our stand drew in a lot of new interest and business was swift," said Jamie; "Which is testimony to the work SPATEX are putting in to make this 'the' industry show that everyone has been asking for.
"Although there is still more work to do, this event certainly appears to be going from strength to strength. Well done SPATEX!"
Tony Fisher of Waterco also highlighted that he had been impressed with the variety of leads that the event had attracted to his exhibitor stand during SPATEX including interest from a sports injury rehabilitation centre and equine hydrotherapy centre.
"We've never had these types of leads before so we are delighted," said Tony.
"What an excellent show. We are very happy indeed. We're definitely rebooking for next year!"
AquaFinesse UK chief and loyal SPATEX exhibitor Sally Koob reported that her eighth consecutive appearance at the exhibition, after following it from Brighton to Coventry, had once again been a success in terms of generating trade enquiries.
"It gave us the opportunity to renew bonds with our exisiting dealers and establish a relationship with new and potential ones," said Sally.
"We were delighted with the quality of trade enquiries. We would not miss it."
Steve Mallory of Atmospheric Zone Ltd revealed that he was also delighted with the quality of leads after having doubts about exhibiting at SPATEX for a consecutive year.
"After last year we were not going to do it again, however we are really pleased we did," said Steve.
"We made some great new contacts and we were very impressed with the diversity of the contacts. We seemed to have more designer and project enquiries than previous years, which is exactly our target client.
"We will certainly be rebooking for next year!"
The host venue and its central location was praised by Dick Goodall of Aquamat. He also reported that his stand received quality levels of footfall that helped to generated commercial sector leads.
"I was impressed with that this year's show targeted the commercial sector in more depth, through various seminars and workshops, and this paid off with a greater number of leisure centre visitors," said Dick.
"We were pleased with the footfall despite the threat of snow and we like the centrally positioned Ricoh Arena. From an exhibitor's point of view, this is by far the best venue at which we exhibit.
"The access and parking are second to none and the air in the hall is fresh and the temperature warm but not too hot. The atmosphere is excellent and conducive to doing business. Well done Michele."
If you are aiming to book exhibition space for the 20th anniversary edition of SPATEX at the Ricoh Arena in Coventry next year contact the organising team on +44 (0) 1264 358558. A special 'Early Bird' rate for exhibitors is available until April 30.