Last chance for early booking deals
Special early booking deals are coming to a close for the 65th anniversary edition of the International Pool, Spa, Patio Expo running alongside Deck Expo that is returning to Las Vegas in November.
Online registration is now open for attendees of PSP/Deck Expo, organised by Informa Markets, the Pool & Hot Tub Alliance (PHTA), and the North American Deck and Railing Association (NADRA). Ahead of the doors opening on November 15 at the Las Vegas Convention Centre, running to November 17, an 'early bird pricing', with up to 20 per cent of savings, is still available at www.poolspapatio.com until Wednesday, September 14.
PSP/Deck Expo was originally founded in 1957 as an event focused on pools and spas. It grew over time, including a co-location with Deck Expo in 2020. Today, PSP/Deck Expo actively collaborates across the entire pool, spa, backyard, and decking industries to provide participants with the most comprehensive array of networking, education, and technology available.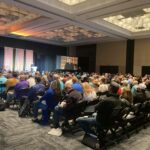 As well as bringing together builders, service techs, retailers, and distributors, thousands of members from the pool, spa, patio, decking, and outdoor living community are expected to attend the 2022 outing of PSP/Deck Expo to engage with the latest products and services and to network. In addition to exhibits and showcases lining the Expo Hall, attendees can gain additional benefits, from industry experts' conference sessions, pictured, and demonstrations.
"There is always so much to talk and learn about, and PSP/Deck Expo is the perfect place to catch up on what will be happening in 2023 and beyond," explained Vice President at Informa Markets Ray Giovine.
"Attendees can dive deeper into the pool, spa, and outdoor living industry at PSP/Deck Expo and deck out with more new products and solutions to take their businesses forward."
Attendees who purchase a Super Pass will have access to more than 55 conference sessions, more than 20 show floor educational sessions, the Expo Hall, the Keynote, the BBQ Bash, and the Welcome Party. Attendees who purchase an Expo Hall Pass will have access to the Expo Hall, more than 20 show floor educational sessions, the BBQ Bash, and the Keynote. All attendees can participate in various special events and training classes for an additional fee.
"Last year's return to an in-person event was an immense success, and we are even more excited to participate again this year," said The Pool & Hot Tub Alliance (PHTA) President & CEO Sabeena Hickman.
"We are creating an amazing space for the highest level of education, networking, and exhibiting that attendees have come to expect from PSP/Deck Expo."