Manufacturing benefit from Canadian merger
Enhanced efficiency will be among the reported benefits from a manufacturing merger that has been announced between Canadian brands Hydropool Hot Tubs and Swim Spas and Sunrise Spas.
Both brands are part of the Jacuzzi Group, following respective acquisitions in 2017 and 2020, and the aim of the manufacturing merger initiative is to ensure future strength in the market with improved efficiency with the combined production process. As part of the initial stages of the manufacturing merger, production of Sunrise Spas and assembly will gradually transfer throughout the next year from its current location in Grimsby, Ontario, to the Hydropool facility in Mississauga.
It has been reported that the structure of the merger has been designed to be implemented at a pace to ensure minimal disruption for all retailers. Hydropool President and General Manager Dan Lowe has welcomed the move and believes it is an exciting opportunity for those working within both brands.
"When we saw the chance to work closer together—and deliver significant manufacturing efficiencies out of that closer relationship—the deal became an easy one for both sides," divulged Dan.
"We want to build and ensure a strong future for Sunrise and Hydropool. This is an exciting opportunity for anyone involved in either company."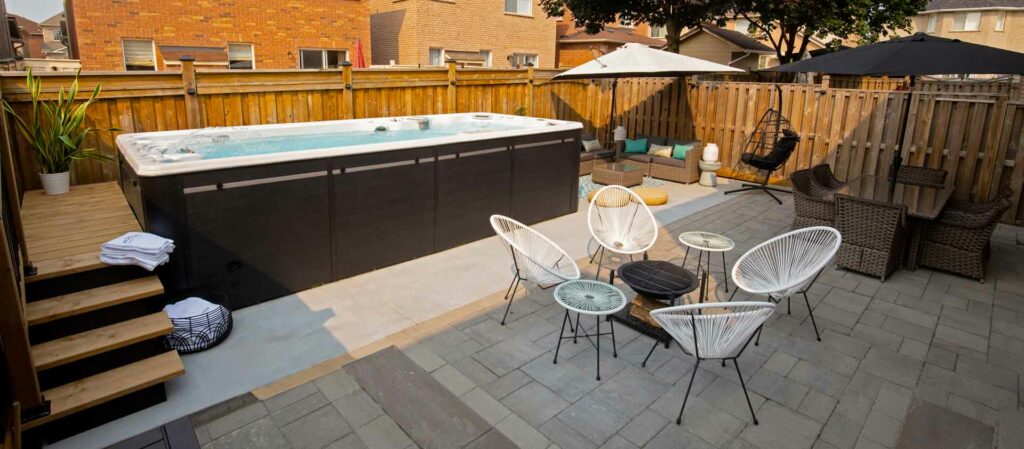 Along with the Hydropool 14 AX Sport, in the £25,000 to £34,999 price range, the new Hydropool 17 AX AquaTrainer, pictured, which is the largest single-chamber model from the Aquatic Collection, has gained 2023 WhatSwimSpa? Best Buy status in the £35,000 Plus price category and received praise for its enhanced hydrotherapy experience and innovative features, including Soft Stride mats on the floor.
For swim spa customers in the UK, current June offers include a free Ballagio Waterfall package valued at £1,999.
Investindustrial, which has Jacuzzi Group in its growing list of acquisitions, has recently become the majority partner of Eataly that was founded by Oscar Farinetti two decades ago and has become the ambassador of Italian food excellence globally.