Master stroke for hot tub stars
TV documentary stars Hot Tub Superstore gained 2,300 new customers last year and are now planning to ramp up sales even further after concluding a historic supply deal with USA manufacturing giant Master Spas.
After outgrowing its exclusive supply relationship with Florida-based Premium Leisure, the Blue Wave Spas Ltd team, who trade as Hot Tub Superstore, has reported that it will be challenging to become the UK's leading supplier of swim spas within the next 12 months following its exclusive deal for the British market with Master Spas, which gained a 2015 WhatSwimSpa? Best Buy Award accolade for the Michael Phelps Signature model that incorporates the patented Wave XP Propulsion Technology.
The Blackpool-based outfit, which is featured in the latest edition of Hot Tub Retailer magazine, got their own and the majority of the market's cash tills ringing with exceptional sales after being featured in the 'Hot Tub Britain' TV documentary, which was aired in September 2014.
As well as a range of their own branded models from the Master Spas production line, Hot Tub Superstore are now promoting and providing Michael Phelps Signature hot tubs and swims spas; as well as their own branded options to ensure it can meet the growing demand from British customers after it easily surpassed the 2,000 sales figure last year.
In the past large quantities of hot tubs had to be stocked, with a minimum of 150 hot tubs in storage at any one time, to guarantee prompt deliveries to customers by Dennis Holmes and his hot tub family crew, including his son Dan, and son-in-law Ross Phillipson, his stepson Guy and his grandson Wes, and Ross's cousin Damien. Now they will have the guarantee of a constant flow of deliveries from two new supply deals.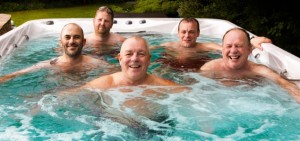 Dennis and his team have also contracted a private label duo of roto-moulded models as part of the second supply deal from globally acclaimed US manufacturer Watkins Manufacturing, which have been named the Cyclone and Typhoon.
"By taking this decision to link up with Master Spas and Watkins Manufacturing, who are global leaders of the hot tub and swim spa industry, we've ensured that our future growth can be matched by the guaranteed availability of products and quick supply to our customers," said Ross Phillipson.
"There is no doubt that these partnerships with major manufacturers will work really well for us. They will provide us with the capability to successfully achieve our current target of 2,000 to 3,000 annual sales in the future and meet the demand from customers for quick delivery to their homes within a couple of weeks.
"We had a very good relationship with Premium Leisure, stretching over ten years in total, but we felt that we had come to the point where we needed new suppliers so that we can match their production capabilities with our dynamic strategy to progress even further.
"This high level of production capability has been a very important factor in this whole process of changing suppliers. Now we don't have to sit on as much stock because we have the guarantee that we can have a constant flow of ongoing deliveries from the USA."
The Hot Tub Superstore's 26,000sqft showroom and warehouse facility site is now being maximised to provide 30,000sqft of display and storage capacity. It provides the dealership with the capability to display a large selection of models from the Master Spas hot tub and swim spa range.
Ross has reported that the booming company's aim for this year is to challenge to become the number one retailer of swim spas in Britain.
The Michael Phelps Signature range inspired by the iconic world record swimming champion has made a significant impact in the international market and Hot Tub Superstore is now promoting the Michael Phelps Momentum 19, priced £34,995, model to the British market that incorporates the manufacturer's exclusive Noise Reduction System. Incremental and intuitive control is also available using the Signature Swim Spas App SNAPP to design and control custom swim spa workouts to achieve specific targets.
Other models in the retailing initiative include the Michael Phelps Momentum 19D model, as well as the Swimmer 12, priced £15,995; and Swimmer 15, priced £19,995. As part of its promotion of the Swimmer 12, which comes in at 144" x 94" x 51", the Hot Tub Superstore is highlighting that it incorporates Master Spas' exclusive Xtreme Therapy Seat and Cove for head-to-toe massaging.
"Our aim is to challenge to cater for the booming swim spa market with the iconic Master Spas and Michael Phelps models and become the number one retailer of swim spas in Britain by the end of 2016," declared Ross.
"We may not achieve it in the first year but it is certainly an aim that we have the capability and capacity to achieve. If we can't do it in the first year then I certainly believe we will be the leading swim spa supplier in the very near future."