National campaign for further growth
Lay-Z-Spa is seeking to expand its share of the UK's hot tub market after launching its first national radio advertising campaign under the slogan of 'Create Your Everyday Oasis' to complement a TV advert.
Along with the new radio advert, which is being featured across a number of the nation's favourite radio stations including Heart, Virgin and Absolute, Lay-Z-Spa has also introduced an accompanying 20-second TV advert for multiple participating channels including Channel 4, Channel 5, Really, Dave, Yesterday, E! and Sky.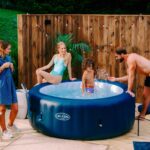 The advert features a family enjoying quality time together in the Milan AirJet and displays the hot tub's features, including its connectivity with the Lay-Z-Spa WiFi App. The advert will be available to watch during the breaks of programmes such as 'Sunday Brunch', 'Come Dine With Me', 'Grand Designs', 'Top Gear', and 'Escape To The Country'.
"At Lay-Z-Spa, we are proud of our innovative products and high levels of customer satisfaction," said Lay-Z-Spa Head of Marketing Anna Howard.
"As we continue to grow our share of the market and we continually develop our technology, we are thrilled to now launch our first radio advertising campaign which is supported by a brand new TV advert.
"Heading into our typically most popular months in sales, we are looking forward to seeing the impact of our campaign in consolidating Lay-Z-Spa as the UK's most five-star rated hot tub brand this summer as consumer demand continues to grow."