New General Manager announced
Golden Coast Sales Director Adam Clark will be taking on the role as General Manager for the two companies of PPG UK & Ireland and Golden Coast following the retirement of David Sargentson.
Current PPG UK & Ireland General Manager David has announced his retirement after the acquisition of Golden Coast by Pollet Pool Group (PPG). As part of this process David has welcomed the Golden Coast team to PPG and believes this will now strengthen the services of both companies and also be a memorable closure for his career.
"Having been involved with Golden Coast in recent months, I am a firm believer that this will be the coming together of two strong companies which will only enhance the offering to our customers in the wet leisure industry," explained David.
"We have rebuilt and grown the PPG UK & Ireland business in Newbury during my 18 months with the group. I am extremely proud of their achievements during a difficult period, almost doubling the turnover in such a short time and establishing ourselves as a key supply partner to our customers.
"As much as I have really enjoyed the challenge, I have had one eye on retirement for some time now. I deliberately did not want the news of my retirement to get in the way of the great news of the acquisition of Golden Coast by Pollet Pool Group.
"Now that the deal is done and the news is out in the world, I could not have wished for a more memorable ending to my career. I will be retained for a few months so will not lose touch immediately."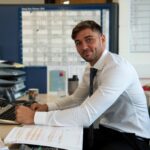 After helping Golden Coast to achieve success as Sales Director, Adam Clark, pictured, will now be taking on the responsibility of General Manager for PPG UK & Ireland and Golden Coast as part of the new joint operations from Barnstaple and Newbury.
"I want to take this opportunity to wish Adam all the very best in his new role and the whole team every success," said David.
"I look forward to seeing their progress and am very confident in a strong future of the two companies under the Pollet Pool Group."