TV doctor prescribing hydrotherapy technology
The Hot Tub Superstore has teamed up with TV's Dr Hilary Jones MBE to spearhead the promotion of Master Spas Home Hydrotherapy Pools.
During filming, as part of the WhatSpa? Professional and WhatSwimSpa? Professional dealership's social media activities, Dr Hilary provided prospective owners of the Master Spas Home Hydrotherapy Pools with his views on the many incentives for utilising the new hydrotherapy product for rehabilitation, exercise and improving wellness on multiple levels in the convenience of home surroundings.
A key therapy benefit element of the Master Spas product is the fact that the water provides buoyancy for up to 75 per cent of body weight to support movement and exercise. Painful joints and muscle tension are also soothed by the warm water to enhance a greater range of motion as part of flexible aquatic exercise.
Dr Hilary is now highlighting in his promotional video footage that the hydrotherapy helps to manage disabilities, boost rehabilitation after hospital treatment, including hip operations, and provides both physical and mental health benefits as well as helping to alleviate muscle pain and joint pain.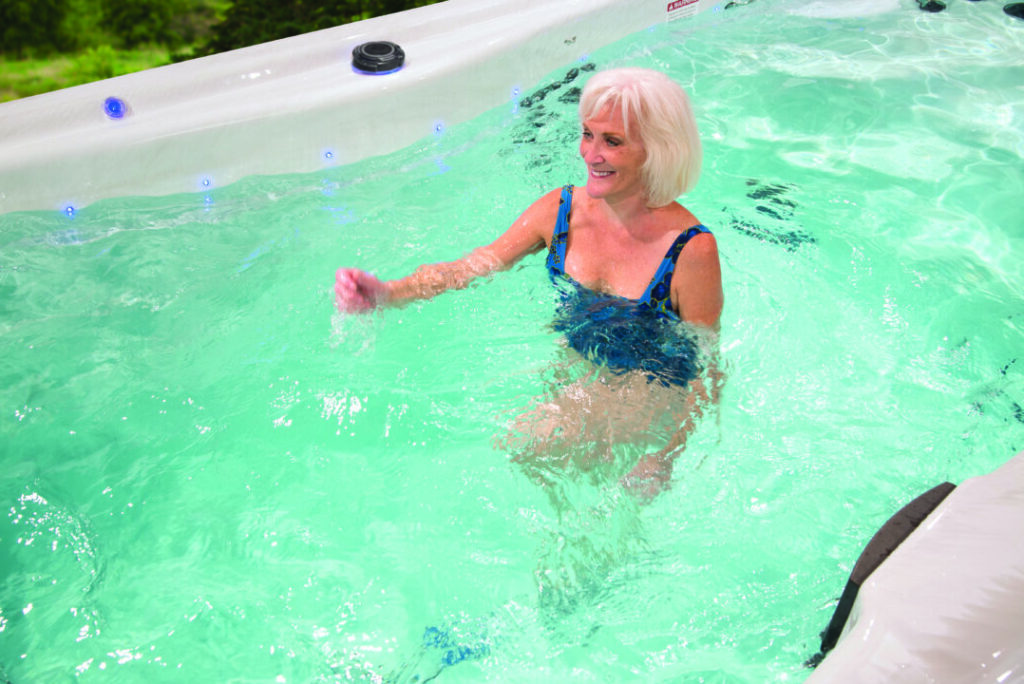 His online video is also now helping to promote the mental health benefits from regularly using the Home Hydrotherapy Pools, pictured, that help to release feel-good endorphin hormones and also allow users with learning difficulties to acquire new skills, as well as boosting confidence.
"You're bringing the hospital unit to your home," explained Dr Hilary; "The equipment is very versatile.
"They have been designed specifically for individuals looking to benefit from therapy in water.
"There's nobody who couldn't benefit from hydrotherapy,"
After showcasing fun pool technology and holiday let spas by Master Spas, including WhatSpa? Holiday Park Best Buy Award-winning models, at The World of Park & Leisure Homes Show at Stoneleigh, The Hot Tub Superstore is also now providing promotion for the newly-launched Michael Phelps Chilly GOAT Cold Tubs by the USA manufacturer.
After helping Master Spas to the top international swim spa status with his specialist range of signature swim spas, including 2023 WhatSwimSpa? Best Buy Award-winning technology, Michael Phelps has been filmed utilising the MP Chilly GOAT Cold Tubs as part of a new collaboration with the manufacturer after becoming an established advocate of cold water therapy as a way of assisting with recovery and improving athletic performance.
During his illustrious competitive swimming career on the way to becoming the most decorated Olympian of all time, Michael combined the use of Master Spas swim spa technology for improving his stroke training, with the use of cold showers and ice baths to help reduce inflammation after intense swimming sessions and to treat his sore muscles ahead of his next swimming event.
Michael has revealed that he has previously struggled to use other designs of cold tubs because of their restrictive shape and size.
"It was important to me that we design a tub that allows for full submersion to help maximise the benefits of cold-water therapy," Michael divulged.
www.thehottubsuperstore.co.uk/hydrotherapy-pools