Villeroy & Boch 'silence' competition
Villeroy & Boch has launched an outdoor whirlpool 'Just Silence' feature with a minimalistic European design that focuses on cubist shapes, a bicoloured concept and unique seating configuration.
Thanks to the patented JetPak™ II technology, the tubs have been designed to 'silence the competition' with a multitude of individual massage functions for a relaxation experience that caters to a multitude of individual requirements and allows five people to sit opposite one another.
The iconic brand revealed it has introduced the Just Silence as a flexible wellness solution with a clear design statement – perfect for soothing sore muscles after physical exercise or as a calming retreat at the end of a long day.
Minimalist design and colour scheme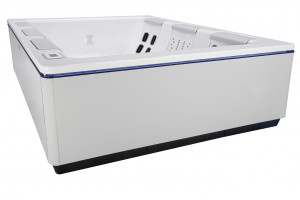 Just Silence is designed with a current European architectural style in mind that is understated and simple. This new puristic look and modern design is accentuated by the JetPaks™, the replaceable back rests fitted with jets. LED lights are integrated in the narrow rim of the tub. In the dark, they illuminate the outdoor whirlpool all around and create a unique lightness. The result is a design that really works: the ergonomic tub is cast in one piece, very ergonomic, and intentionally constructed without the usual "clutter" of many other outdoor whirlpools.
The colour scheme is deliberately minimalist as well: The outer panelling, bright and modern in attractive Light Grey, is combined with a white interior shell in the colour Snow. This gives the outdoor whirlpool a lightweight character and can easily be combined with all available colours of the outdoor space. The attractive outdoor whirlpool harmonizes perfectly with patios or lounge style gardens.
Modern seating concept and individual massage function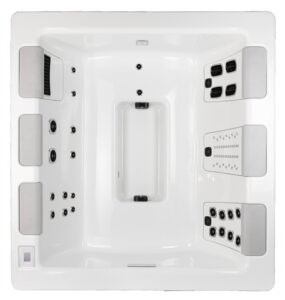 Another distinctive feature of the Just Silence whirlpool is the new arrangement of the seats: Five people can sit in the tub across from each other at an angle – a position that allows them to stretch their legs comfortably and is ideal for relaxation and conversation. The comfortable neck pillows and JetPaks™ are the perfect addition to a relaxing wellness experience.
The as yet unrivalled sitting and reclining concept with up to five reclining positions can be integrated into the outdoor whirlpool with the dimensions 213 x 224 cm, a feature that is particularly popular with European spa users. Integrated leg water jets and a special water feature add up to an even more relaxing wellness experience.
A new display feature of the Just Silence whirlpool rounds off the design. Meanwhile, the menu is no longer controlled with keys. Instead, it now has a touchscreen.
In addition, the massage functions of the Just Silence whirlpool can not only be selected individually, but also new functions can be added and adapted to meet the personal requirements and preferences of the user at any time. This is made possible due to the patented JetPaks™ II technology that is exclusive to Villeroy & Boch whirlpools. These are easy to handle and provide user-friendly low-maintenance capabilities.
Removable back rests that hold the jets can be exchanged and attached to any seat, also while the whirlpool is filled with water. Owners  can choose between eight JetPaks™ and enjoy their favourite massage, for example of the neck or lower back, in your favourite seat, sitting up or in a reclined position.