UK Pool & Spa Expo organisers have vowed to become the future of the hot tub and wet leisure industry at the host venue of the Birmingham NEC with the support and commitment from exhibitors and retailers.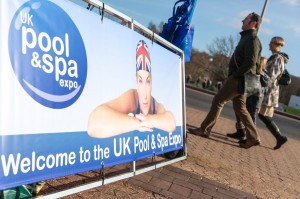 It has been revealed that UK Pool & Spa Expo organisers New Events Ltd are currently reviewing dates for next year's exhibition but Event Director Claire Saunders has pledged that a fourth edition of the show will definitely go ahead in 2016 to maintain the goal of gaining world recognition for the event. The move follows exhibitor feedback and aborted plans for a joint event with SPATEX.
"We are talking to our customers and we want to make sure that we get the right time for them as well as fitting in to the industry calendar at a time that will be beneficial for everyone," said Claire.
"In the three years we have been organising the UK Pool & Spa Expo we have raised the profile of the UK wet leisure industry to a higher level than was ever achieved by the other show organisers who invested no time, effort or enthusiasm until they were forced to by our event launching.
"Would they have still been in Brighton if we hadn't have come into the market despite the continual call for venue changes from the industry?
"We will not be distracted from our original goal of creating a professional event in the UK, which will be world recognised. We will lead and not follow.
"New Events will be the future of the wet leisure industry."
The event this year saw the return of a host of hot tub brands including Alps Spas, Artesian Spas, Viking Spas, Vita Spa and Wellis to claim exhibitor hat-tricks, while fellow manufacturing heavyweights L.A Spas and Marquis secured a brace of UK Pool & Spa Expo appearances after their second outings at the NEC.
High-profile 'new recruits' included iconic global brand Villeroy & Boch and Softub UK; while Elite Spas also made their first appearance as an exhibitor, after pulling out of the inaugural edition of the exhibition due to bad weather in 2013, to promote a new association with St Louis-based hot tub manufacturer Aspen Spas after ending their 11-year association with Sunbelt Spas.
 European hot tub manufacturing was also showcased on the Portcril stand, while Aqua Spa Supplies, Hydrospares and Doric Marketing had exhibition stands to promote their services for hot tub retailers and specialist companies involved in the wet leisure market.
Artesian Spas has been using the exhibition during the past three years to help enhance promotion of its extensive hot tub and swim spa range, which has been increased with new models including a powerful TidalFit Active EP-12 Above Ground edition that received its official British debut at the UK Pool & Spa Expo in January.
"The UK Pool & Spa Expo 2015 has once again been a success for us as a business," said Artesian Spas Director Victoria Wrigglesworth.
"We always find it an excellent place to showcase our new products as well as speak to many people in the industry both new and old."
Richard Hart promised that he will be returning for his fourth successive UK Pool & Spa Expo outing next year to promote his growing status in the hot tub market after acquiring the distributor responsibility for the L.A Spas brand to join the Vita Spas UK network in his Aqua Warehouse Group portfolio.
During this year's exhibition he was promoting hot tub cover lifts, including the Covana CS 1000 and the ASC-2 motorised spa cover lift system from Auto Spa Cover; and the fact that his Aqua Spa Supplies service was flourishing in the wet leisure market.
He also highlighted that Aqua Warehouse had introduced a new online stock system for existing and prospective LA Spa dealers to take advantage of, while highlighting that finance facilities will also be available for L.A Spas dealers to provide for their customers.
"We've developed a good business model with our Vita Spa brand over the last few years, which have proved very successful for us, and I'm committed to bringing some of these ideas to the L.A. Spas brand," said Richard.
"Now we've got a great opportunity to raise the profile of a well established brand in the UK and we will work hard to achieve this goal with the support of the L.A Spas dealer network."
Aqua Spa Supplies had John Mabey promoting a wide range of hot tub and wet leisure accessories during the supply company's debut as an exhibitor at the event.
"In the past we may have been one of the best kept secrets in the industry but now we are heavily promoting the fact that we are running a smooth operation for the wet leisure industry to benefit from," said John.
"As well as highlighting that we have very high levels of stock for guaranteed next day deliveries. We also provide our customers with a free delivery service for any orders over £50."
Marquis Director of Global Sales Steve Hasenmueller, who was attended both West Midlands-based shows this year to promote the launch of the new Aquatic Training Vessel, reported that next year he would likely be opting for just one exhibition outing at the NEC to achieve a hat-trick of appearances at the UK Pool & Spa Expo.
"If I was choosing between the two exhibitions I think that I would go for the UK Pool & Spa Expo next year," said Steve; "It is more of a hot tub show."
Villeroy & Boch Wellness at Home Manager Dirk Peters and International Sales Manager Wellness at Home Ralf Banaski reported that their joint inaugural exhibitor appearance at the UK Pool & Spa Expo had been a success following other exhibition outings at Interbad, in Germany, and Piscine Global, in France to promote the new 'Just Silence' design; plus the new colour options and unique features for the 'Premium Line Colour Edition'.
"We have been overwhelmed by the very high levels of praise from the trade visitors to our exhibition stands for our innovative designs," said Dirk.
Ralf, who is taking up a new role for Villeroy & Boch in India this month, also proclaimed that the Just Silence model had made an impact with exhibition visitors.
"We've gained a lot of interest in the Just Silence model and I believe we will achieve success with it," said Ralph. "We're confident in our new models and are seeking additional dealers for them."
Aspen Spas General Manager Sam Bania flew in from the St Louis headquarters of the USA hot tub manufacturer to help promote the new partnership with Elite Spas.
"This is an amazing opportunity for us," said Sam; "After we agreed the deal with Elite Spas they gave us an order for 52 hot tubs, which is a fantastic start to the relationship.
"We are really excited for the rest of 2015 now that we have become involved in the UK market thanks to Elite Spas. The UK Pool & Spa Expo was a great show and it resulted in new Elite Spas dealers signing up to become retailers for our hot tubs."
Alps Spas supplier and Viking Spas European distributor Anthony Schneikert reported that his third appearance at the exhibition had been a success to round off 12 months of promotion for his fledgling status as European distributor for Viking Spas.
"I secured a great position for my stand this year and gained more than £20,000 worth of new business on the first day," said Anthony.
"The location of our stand was perfect and I would book a similar position if I returned next year. Due to our success this year, we will be looking to expand our business and that is likely to see us move to new and bigger premises as a result."
Hungary-based Wellis used the event to launch the 'futuristic' Dabassy and WELLONE single seater model to the UK market ahead of promoting its status as Europe's leading hot tub manufacturing during the Forum Piscine Pool & Spa Expo in Italy.
"We had a very good reception for our Dabassy in Birmingham during the UK Pool & Spa Expo," said Wellis Export Sales Representative Dora Beres.
"We are now looking to target the hydrotherapy market with this new model across Europe to extend our presence even further, which grew 50 per cent last year."
Portcril UK Sales Representative Robin Twivey, who had manned the Wellis stand at previous exhibitions, was on the Portuguese manufacturer's stand this year to promote the new line of three 'made in Europe' Emotion Spas models that incorporate an Elite Lounge Bed and have the capability to feature football team crests, as well as the Zeta and Lounge Concept ranges.
"We gained positive feedback for the Emotion Spas during the UK Pool & Spa Expo and that's due to the fact that Portcril has invested a lot of time and effort into ensuring that painting acrylic can actually work," said Robin.
"It now provides retailers with the capability to incorporate logos and football team crests on their customer's hot tubs for example."
At this year's exhibition Softub UK distributor Joe Hutchinson made his debut as an exhibitor to promote an increase in sales for the popular range of versatile hot tubs, which are produced with a durable LeatherTex outer vinyl to withstand severe weather conditions.
"During the past few years we've been attending events throughout the UK to increase awareness for the Softub brand and our dealer network has been growing as a result," said Joe.
"We know our market and are not in competition with traditional hot tubs. Ours is a different customer base of people that like the elegance and simplicity of the Softub models."
Hydrospares Director John Ellis reported that the company he runs with sister Rosie Cook had improved its exhibiton stand footfall compared to its debut appearance in 2014.
"We were a lot busier on our stand than previously at our first appearance at the UK Pool & Spa Expo last year," said John.
Doric Marketing chief and industry guru Dorian Davies made his debut as an exhibitor at the event to promote his marketing strategies to the wet leisure audience and to advocate modern promotional initiatives linked to enhanced customer communication capabilities.
"This is a new age of marketing across all retailing sectors and those that are not prepared to adapt will start to lose out to proactive hot tub retailers and are certainly going to get left far behind in a few years time," said Dorian.
UK Pool & Spa Expo Marketing Manager Lauren King declared that the third instalment of the exhibition had attracted quality visitors thanks to promotional efforts by the New Events team throughout the year leading up to the event.
"We had a great show this year, we pride ourselves on the quality of our visitors as we work hard for our exhibitors all-year-round to attract the valued customers they are searching for," said Lauren.