Alfresco Life plants new location seeds
Sundance Spas dealership Alfresco Life is hoping hot tub sales will be blooming this year after relocating from their Macclesfield headquarters to a new show site at the Congleton Garden Centre.
Glen and Francesca Squire, who were previously Sundance Spas distributors for the UK network when they were located at Hadfield House on Congleton Road, decided last year that the time was right to find new premises for their outdoor living business and made the move to plant new location seeds at the garden centre on Moss Road just before Christmas.
Traditionally the couple have helped to raise money for charity with Christmas tree sales but that will no longer be possible as they are now situated in a garden centre that supplies them during the festive period.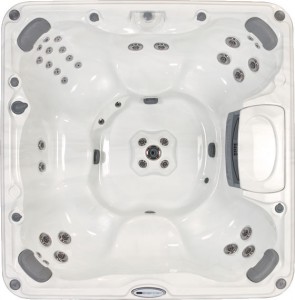 As well as being established Sundance Spas dealers, promoting the WhatSpa? Best Buy Award-winning seven-seater 780 Series Chelsee, pictured, which comes in at 226 x 226 x 92cm; and the 880 Series Optima, which comes in at 226 x 226 x 96cm and has been dubbed 'one of the best all-seaters on the planet'; Alfresco Life also specialises in supplying hot tub accessories and chemicals, Tylo saunas, Amazonas hammocks, ClickClark beverageware, BBQs, fire pits, Cedartree garden buildings and luxury outdoor Nowy Targ furniture.
The move has coincided with Jacuzzi UK taking over distribution responsibility for the Sundance Spas dealer network, at the start of the New Year and Glen reported that it is already paying dividends.
"We've sold a few hot tubs already since our move to the Congleton Garden Centre and now we're looking forward to the rest of the year," divulged Glen, who will be celebrating a decade of hot tub retailing with the Sundance Spas brand next year.
"It's a different level of footfall being in a garden centre location but we are confident that we've made a good decision."