Anniversary showcase gains glowing praise
Hot tub and pool specialists have heaped glowing praise on SPATEX organisers for achieving a major success and generating bumper visitor numbers for the 20th anniversary edition of the wet leisure showcase in Coventry.
With the doors to this year's exhibition freshly closed and with almost a year to go before the 2017 edition opens at the Ricoh Arena, from Tuesday, January 31, to Thursday, February 2, a host of exhibitors from last week's 'sold out' SPATEX are continuing to provide their endorsements for the West Midlands-based host venue location and the hard-working team responsible for the annual event.
Over 120 exhibitors, including a large contingent of hot tub and swim spa specialists, packed into the Jaguar Exhibition Halls 1 and 2 and many have been quick to provide an extra boost to SPATEX organiser Michele Bridle and her team as they begin preparations for the 'coming of age' 21st edition.
Caldera Spas distributor and wet leisure powerhouse Certikin International was among a group of loyal exhibitors that have shown steadfast support for the exhibition and Marketing Manager Cath Saunders was among the high-profile companies who have been quick to provide glowing praise for this year's event.
It helped the company, which supplies a selection of USA manufactured Catalina Spas swim spas to its dealers, to promote two new hot tub arrivals in the form of the two-person rectangular 'Aspire' and five-seater 'Splendor' for its fledgling distribution service of the Fantasy Spas range that also includes the three-seater 'Embrace', four-seater 'Drift' and five-seater 'Entice' from Watkins Manufacturing. Other exclusive launches of new products included the innovative Walu Deck and Walu Air pool covers, as well as the OC-1 filter media, which has been proclaimed as the 'future of swimming pool filtration', proved to be very successful.
"SPATEX 2016 surpassed all our expectations with a steady flow of high quality visitors throughout the duration of the show," said Cath. "The launch of the trailblazing OC-1 filter media was met with huge interest.
"It is easily the best way of accessing all that the UK wet leisure industry has to offer, coupled with a great social networking experience.
"We were particularly pleased to see more commercial visitors, particularly from the holiday park sector."
Hot tub distributor and Spa Crest Europe chief Tony Welsby is another SPATEX loyalist who has been singing the praises of the Ricoh Arena venue and the organising team's efforts to produce a stunning success this year.
At many SPATEX outings in Brighton and now in Coventry the Spa Crest and Tuff Spas hot tub distributor has occupied large stands to promote his wide range of hot tub options to dealers and occupied a similar stand location as last year to continue his run of successive appearances during the 20th anniversary edition, which saw him exclusively launch a new seven-seater TT450 Tuff Spa model to mark the first anniversary of the brand being introduced to the British market.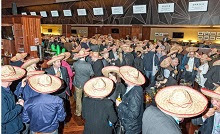 Like many exhibitors Tony attended the 2016 British Pool & Hot Tub Awards Gala Evening and Presentation Ceremony and also the special Mexican-themed socialising event, dubbed 'El SPATEX', pictured, which included sombreros and false moustaches, following a successful two opening days of the exhibition at the Ricoh Arena.
 "From the moment we arrived until the moment we left, everything was taken care of by the organisers," said Tony. "The show was packed out with quality exhibitors and, more importantly, quality visitors to our stand and it seems everyone else's too!
 "The British Pool & Hot Tub Awards night dinner on Sunday was excellent and the after-show party on Monday was good. Other nights we were on site we took a short trip into Coventry and ate at some fabulous restaurants.
"I know from talking to the organisers that some last minute hot tub exhibitors asked for bigger stands at the 2017 event – before close of play on Monday!"
Aqua Warehouse Group chief Richard Hart, whose Essex-based outfit distributes the L.A Spas and Vita Spa brands of hot tubs and swim spas has exhibited successfully at Brighton and at Coventry and this time round was highlighting products from his Aqua Spa Supplies division including the new End2End swim spa cover and reported that he was delighted with the 'best ever' exhibition.
It proved the icing on the cake for an incredible year for the distributor who celebrated increased sales success during seminar events with his two dealer networks of the L.A Spas and Vita Spas brands just before attending SPATEX to promote his thriving Aqua Spa Supplies division.
During the first days of the exhibition Aqua Spa Supplies hosted a special seminar event to provide guidance on pool vacuum products and throughout the three days of the 20th anniversary edition also highlighted other hot tub cleaning products including the Mytee Mitt and Life Spa Brush, as well as fragrances, Spazazz Crystals and fun thermometers.
The stand also had a large selection of ducks on display including the Aqua Spa Supplies Duck, Vita Duck, and Life Guard Duck, plus additional promotion for the Aqua Steps, and a wide range of accessories available to current and prospective customers including towels, Smart Bar, Spa Caddy, the Spa Side Handrail and the Safe T Rail.
"Thank you Michele and your team for the best ever show!" Richard enthused.
Hot tub and pool product specialist Golden Coast has been a leading supporter and advocate of SPATEX for many years throughout its 17-year run in Brighton and during the three years since its transition process to the Ricoh Arena.
This time round, the family run company was heavily promoting the chance to win a cheque for £5,000 by customers purchasing the new DEL Ultima pool cover system before December 16. A double stand presence also provided details of the new Tylo sauna Evolve modular options, and highlighted the BADU EasyFit pool pump from Speck, along with products from Golden Coast's Essentials range,
 "Continuing to exhibit at a quality venue like the Ricoh has really invigorated our industry, giving many companies the confidence to invest in some great looking stands," said Golden Coast Managing Director Jamie Adams.
"SPATEX always presents a great opportunity to showcase our latest innovations and share our knowledge with the industry. With an increase in numbers this year, SPATEX 2016 exceeded our expectations giving us a real boost to start the season.
"Having sombreros and moustaches for the exhibitor party was a masterstroke – well done team SPATEX."
Pollet Pool Group's Jimmy Lamb is another seasoned SPATEX exhibitor who has praised the event that helped to further increase awareness to prospective hot tub dealers for the SpaTime water treatments from BAYROL.
"This was probably one of the busiest SPATEX shows that I have personally experienced and we have received an abundance of product enquiries as a result," said Jimmy.
"I read this as a sure sign that the pool and spa industry is in good shape and that Pollet Pool Group is growing in popularity and strength year on year."
Pool specialist companies that exhibited their products and services this time round have also been equally impressed with the event and many are pledging to return to mark the specialist occasion of the 21st edition of SPATEX.
Dyfed Thompson-Smith of Astral Pool Group said: "We have received a lot of interest, both from existing and new customers and received a lot of compliments about our stand. We intend booking a bigger stand space next year to build on the positive momentum generated at this year's show."
Paramount Pools Ltd's Steve Martin said: "I was impressed with the overall SPATEX experience this year. From the set up and throughout the show, the team were always hand to deal with any queries. The volume and more importantly, the quality of the leads were better than expected. A big 'pat on the back' to you all!"
Paul Webb of Fairlocks Pool Products said: "As always, it was a pleasure to be exhibiting at SPATEX 2016. We made some great contacts, did some networking and celebrating the 20th anniversary made the exhibition feel extra special.
"There was a lot of interest in the new underwater lighting technology we had on offer, and overall it was a really great show. Fairlocks have always enjoyed being part of the SPATEX family and here's to many more years."
Brenntag's Jenny Lunn said: "The leads were of a much higher quality this year.  We have had numerous enquiries for our Heatsavr product, including one from a garden design company.
"It seems there is a genuine growing concern and interest in green issues, which attracted many visitors to our stand. All in all, an excellent Show for Brenntag."
Ocea UK Ltd's Alan Thorne said: "The show really hit a new level of professional presentation for the UK pool industry, equalling if not surpassing the Aquanale show as the place to exhibit your business."
Heatstar's Mark Osman said: "Sincere thanks to the entire SPATEX team for providing once again a first class, and successful show.
"SPATEX always provides us with an excellent platform to present our products and services and this year was no different. We look forward to seeing you again next year!"
Lovibond Tintometer's Elizabeth Wilkinson said: "This was probably the most successful SPATEX we have experienced in years.
"It has become a very professional event and the new location is beginning to attract a new audience, bringing life into the exhibition and new ideas to the seminars. It remains small enough, however, to retain its family atmosphere and encouraging great networking."
AQUA Water Systems Ltd's Nick Watson said:  "SPATEX 2016 was without a doubt the best show yet.
"From setup to breakdown everything went without a hitch and special thanks go to all the Spatex team. Visitor numbers were extremely good over all three days of the show with some very good enquiries and sales. Bring on 2017 – can it be even better?"
Paul Grunhut of Lo-Chlor Chemicals Ltd said: "SPATEX 2016 has been a great success for Lo-Chlor Chemicals Ltd, which is a testament to the whole of the SPATEX organising team. The stand was always busy and the quality of the enquiries received was very positive."
Niveko's Lukáš Velecký said: "It's been a good show for us and we are very satisfied with the business we have received. The preparation and organisation has been excellent and I have been impressed by the quality of the stands and the companies.
"We've had some fantastic feedback. We are really looking forward to breaking into the UK market this year, which is why we are working closely with Certikin and SPATEX has been an excellent showcase for doing just that."
Cranbourne Stone's Howard Standfield, said: "We've been delighted with the show. In the three years of exhibiting at SPATEX, 2016 has been the busiest, with a steady flow of quality leads, 20 per cent of which represents new customers. We are looking for a bigger stand next year!"
Keith Bull of Nsure Chartered Insurance Brokers said: "The exhibition was very well run and the vibe was very positive. Nsure will be back in 2017 to celebrate your 'coming of age' 21st year."
Michele Bridle reported that the SPATEX organising team members were overjoyed to receive such glowing praise and extremely  positive feedback after officially confirming a 28 per cent increase in visitors numbers, including a significant increase in commercial visitors, many of these drawn from the hospitality and holiday sector.
"On behalf of all the SPATEX team I would like to say a special thank you back to our exhibitors for making the 20th SPATEX the best and for all their lovely words," said Michele.
 "We pulled out all the stops to celebrate our 20th anniversary and the industry handsomely rewarded us with exhibitor space sold out some two months early, but the visitor numbers exceeded even our expectations.
"Visitors flocked from both home and abroad, representing a huge cross section of disciplines and facilities; such as leisure centres, hotels, councils, schools, holiday parks, spas, animal hydrotherapy pools, to name but a few.
"Far from resting on our laurels, though, it's now onwards and upwards for SPATEX! This year has proved to be a fantastic platform upon which to build SPATEX 2017, which we are planning to make even bigger and better. Watch this space for news of our landmark 21st exhibition."  
To book exhibitor stand space for the 21st edition of SPATEX in 2017 contact the SPATEX team via email: helen@spatex.co.uk or michele@spatex.co.uk or telephone +44 (0) 1264 358558.