Aqua Spa Supplies making double debut
Aqua Spa Supplies chief Richard Hart will be highlighting an array of hot tub and swim spa accessories during a double promotion of his fledgling Aqua Spa Supplies service for the trade at the UK Pool & Spa Expo and SPATEX.
Exclusive Vita Spa distributor Richard will also be promoting the brand at the UK Pool and Spa Expo, running from January 22 to 24 at the NEC in Birmingham, and the fact that his loyal dealer network in the UK surpassed 2013's record-breaking 40 per cent increase in sales after Vita Spa gained its fifth consecutive WhatSpa? Best Buy Award for the popular five-seater Elegant that comes in at 211 x 200 x 94cm and is viewed as excellent value in the sub-£5,999 price bracket.
As well as targeting hot tub retailers, by highlighting the fact that the USA manufacturer has received its first WhatSpa? Best Buy for the six-seater Prestige, which incorporates a lounge seat, in the £6,000 to £7,999 price band, Richard will also be seeking out potential dealers for the brand's flourishing swim spa range that has achieved 2014 WhatSwimSpa? Best Buy Award recognition for the Vita Spa XSP.
Aimed at consumers wanting a quality swim spa model under the £20,000 price bracket, it is the big brother of the XL4. Both are manufactured with the same heavy-duty steel subframe and Vita's energy-efficient environmentally-friendly recycled insulation, which both have 'Lifetime Warranty' policies for retailers to promote to their prospective swim spa customers.
"We have had another tremendous year of sales that have helped us to surpass our 40 per cent increase that we achieved in 2013," said Richard.
"All of our dealers in the UK have performed well and we will be promoting this during our third appearance as an exhibitor at the UK Pool and Spa Expo."
The Aqua Spa Supplies division of Richard's booming Essex-based Aqua Warehouse outfit will be featured prominently with its own dedicated exhibition stand area at the UK Pool & Spa Expo before being promoted at SPATEX, from February 1 to 3.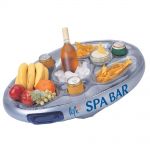 Officially launched last year, Aqua Spa Supplies will make its exhibitor debut at both events to promote its specialist services in providing hot tub covers, cover lifts, steps and a spare parts, as well as a host of accessories including a Spa Bar, pictured, Spa Caddy, Safe T Rail, and an Aquaroller.
To attract visitors to his stand and to mark the Aqua Spa Supplies debut at the UK Pool & Spa Expo, Richard will be providing a free cover lifter with every trade order over £300.
"This year we will be putting a special stand display together to heavily promote our new Aqua Spa Supplies service to the wet leisure trade during the two UK exhibitions in Birmingham and Covnetry," divulged Richard.
"We've been putting a lot of effort into this to highlight all of our product lines that are available to the trade."
For further details about how to become a Vita Spa dealer, or for comprehensive product material on the wide range of hot tub and swim spa options from the USA manufacturer visit Stand 435 at the UK Pool & Spa Expo.
Comprehensive Aqua Spa Supplies product information will be available on Stand 433 at both the UK Pool & Spa Expo and Stand D3 at SPATEX.
UK Pool & Spa Expo 2015 opening hours for the first two days of the show, on January 22 and 23, will be between 10am to 5:30pm. On Saturday, January 24, the third and final day of the UK Pool and Spa Expo is the Consumer Day that will be staged between 10am and 3pm for exhibitors in Hall 10 to meet with members of the public as well as trade representatives. Further details about the exhibition are available at www.ukpoolspa-expo.co.uk
SPATEX 2015 opening times for the first two days of the exhibition at the Ricoh Arena will be 9:30am on Sunday, February 1 and Monday, February 2. Both days are then scheduled to officially finish at 5pm. In keeping with tradition, there is a shorter day on the third and final day on Tuesday, February 3, which will run from 9:30am to 4pm. Further details are available at www.spatex.co.uk
www.aquaspasupplies.co.uk