Aqua Warehouse gearing up for extra demand
Hot tub retailers have been assured that the Aqua Warehouse Group is gearing up for success after adding the L.A Spas brand to its UK hot tub distribution network that includes the flourishing Vita Spa stable of products.
The Essex-based Aqua Warehouse Group is expecting to be busy this year taking advantage of booming UK consumer demand following the acquisition of L.A Spas by Brookfield Asset's Hot Tub division, MAAX Spas Corporation, resulting in it becoming the third largest manufacturer in the industry.
Aqua Warehouse Group Managing Director Richard Hart promoted his new distributor status for the L.A Spas brand, which includes the WhatSpa? Best Buy Award-winning six-seater Belmar LX, that comes in at 211 x 211 x 89cm, during the UK Pool & Spa Expo. After adding it to his exclusive distributor status for the Vita Spa brand at the end of 2014, Richard has now promised that exciting times lay ahead for retailers.
Both Vita Spa; which includes the WhatSwimSpa? Best Buy Award-winning XL4, that comes in at 4.27 x 2.28 x 1.27m; and L.A Spas brands had independent stands that were visited by current dealers and prospective retailers and customers during the UKPSE exhibition that Richard and his team will be returning to in 2016, from February 18 to 20, in Halls 7 and 8, at the NEC.
As part of the integration with the additional brand, L.A Spas specialist Sean Aldred has been retained to ensure communication with the dealer network is maintained.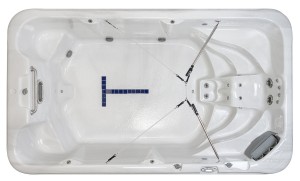 The wet leisure stalwart was providing details to current and prospective dealers at the UKPSE; while also promoting the brand's In-Fit Exercise Pools including the WhatSwimSpa? Best Buy Award-winning 13SL, pictured, coming in at 92" x 156" x 53"; and 13 PRO, coming in at 92" x 156" x 53".
Richard also revealed that his Aqua Warehouse operation has introduced a new online stock system for the existing and prospective LA Spa dealers to utilise, which was up and running at the start of the New Year. Finance facilities will also be available for L.A Spas dealers to promote to their prospective customers this year.
"Our aim is for a seamless transition for all of the current L.A. Spa dealers without big changes that could cause problems," reported Richard, whose Vita Spa dealer network enjoyed another bumper year of sales in 2014.
"Now we've got a great opportunity to raise the profile of a well established brand in the UK and we will work hard to achieve this goal with the support of the L.A Spas dealer network.
"We've developed a good business model with our Vita Spa brand over the last few years, which have proved very successful for us and I'm committed to bringing some of these ideas to the L.A. Spas brand.
"We've already hit the ground running with the introduction of a brand new online stock system for the LA Spa dealers to utilise, which was up and running in early January. This is the first of many helpful improvements the current dealers will see over the coming months."
USA-based MAAX Spas Director of Business Development James McClure also attended the UKPSE to spend time on the Vita Spa and L.A Spas exhibition stands. He promised L.A Spas retailers that the brand's hot tub and swim spa models will flourish independently with the same manufacturing and financial support from MAAX Spas and Brookfield Assets that the Vita Spa brand has enjoyed in recent years since becoming part of the wet leisure powerhouse.
"We have purchased L.A Spas because of its high-quality range of products and strength in the market," said James.
"I can assure dealers that we will be promoting the L.A Spas brand in its own right with our financial support for its dedicated hot tub and swim spa ranges to build on the history of the brand."
Sean Aldred added: "We've been given assurances that the L.A Spas products will have their own manufacturing and promotional identity.
 "I believe our dealers are going to gain a major benefit from having access to the finance options for their prospective customers, plus peace of mind about being part of the financially-secure Brookfield Assets group of hot tub companies."
 The Aqua Spa Supplies division of Richard's booming Aqua Warehouse outfit will also be promoted at SPATEX  when it returns for the second time to the Ricoh Arena in Coventry this weekend.
 Officially launched last year, Aqua Spa Supplies will make its exhibitor debut at SPATEX on Sunday to promote its specialist services in providing hot tub covers, cover lifts, steps and a spare parts, as well as a host of accessories including a Spa Bar, Spa Caddy, Safe T Rail, and an Aquaroller.
 "This year we will a dedicated Aqua Spa Supplies stand display to heavily promote our services to the wet leisure trade during SPATEX," said Richard.
 "We have been putting a lot of effort into this to highlight all of our Aqua Spa Supplies product lines that are available to the trade."
 Comprehensive Aqua Spa Supplies product information will be available on Stand D3 at SPATEX in the Jaguar Exhibition Hall.
 SPATEX opening times for the first two days of the exhibition at the Ricoh Arena will be 9:30am on Sunday, February 1 and Monday, February 2. Both days are then scheduled to officially finish at 5pm. In keeping with tradition, there is a shorter day on the third and final day on Tuesday, February 3, which will run from 9:30am to 4pm. Further details are available at www.spatex.co.uk
www.laspas.com