Artesian Spas dealer marks 45th anniversary
Artesian Spas hot tub dealership H2O has refurbished its Exeter showroom and increased staff levels to coincide with celebrations for its 45th anniversary and to accommodate the arrival of the new TidalFit Active EP-12 swim spa.
The twice winner of the Peter Geekie Award for Retail Excellence is a specialist subsidiary of IJ Canning Ltd building services engineers, with Managing Director Bradley Cannings at the helm. As well as the premium Exeter-based Strafford House showroom gaining an anniversary facelift, Bradley has given the green light for staff numbers to be boosted to meet the growing demand in the wet leisure market.
Among the new arrivals to the specialist pool, hot tub and swim spa company has been former Golden Coast Technical Sales Advisor Dan Johnson who took up the role of H2O Marketing Manager in January.
During his tenure at GoldenCoast, Dan was honoured with the coveted Paul Kite Pool Star of the Year Award at the SPATA Awards in 2011. He has also recently been instrumental in supporting and promoting Saratoga Spas to the British hot tub market by exclusive distributor Deep End Pools.
Dan will now be responsible for bringing a new insight and perspective into H2O's successful sales and marketing activities at the Exeter and Taunton showrooms; as well as helping to promote the complete Artesian Spas hot tub ranges, along with the arrival of the USA manufacturer's new TidalFit Active EP-12 swim spa model; which was officially launched to the British trade and consumer market at the UK Pool & Spa Expo in January.
"Since joining H2O and finding out more about Artesian Spas I've been really impressed with the brand and its hot tub and swim spa product range," said Dan.
"A flourishing pool and hot tub market has driven H2O to grow in every aspect since its humble beginnings, even absorbing another pool company several years ago, giving them a further showroom in Taunton.
"They attribute their success to a long-term vision and hard work with a refreshing and exceptional customer experience delivered by highly capable, well trained and motivated staff. Couple this with products consummate to their needs and it's no wonder the clients and referrals keep coming, month after month, year after year.
"We've now got a stunningly enhanced purpose-built showroom to showcase our Artesian Spas display models and we'll be one of the first dealerships to take on the new TidalFit 12ft swim spa.
"As well as being a fitness device I also believe its main attraction to prospective customers is that it provides a whole family experience of communal warm water enjoyment."
Dan reported that his main tasks at H2O will heavily revolve around customer interaction. He will be ensuring that there is a consistent and high quality customer experience whether via the showroom, direct marketing or other means, during what is shaping up to be a bumper season for the company.
He is certain that his well-rounded experience of the industry, covering overseas manufacturer liaison through to technical sales and showroom direct selling, will stand him in good stead as the company creates further success after its 45th anniversary milestone.
"I believe my arrival has enhanced the already strong teams in both Exeter and Taunton and my experience of the industry is helping to bring a new insight and perspective to keep H2O's successful marketing and sales fresh and moving forward," said Dan.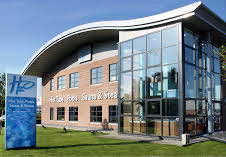 Nestled on a trading estate at Waterbridge Court in Matford Park Road with Europe's densest concentration of car showrooms featuring the Ferrari, Maserati, Porsche, Land Rover, and BMW prestige marques, Dan also believes H2O's refurbished Royal Institute of British Architects (RIBA) award-winning showroom building, pictured, which is topped off with a bold signature roof line that resembles a wave of water, will help the company to hit top gear with customer interaction.
On offer for customers is an exhaustive list of showroom facilities from a wet test area for Artesian Spas hot tubs and swim spas, to an Endless Pool, tiled steam room, an Experience Shower, and even heated lounger seats.
"The refurbishment work to coincide with H2O's 45th anniversary has considerably enhanced our showroom presentation and customer interaction even further and I'm looking forward to the challenge ahead," declared Dan.
"You have got to keep enhancing things in business and I believe it's vitally important to have a professionally-run showroom if you want to succeed in this market."