Artesian Spas promoting extensive options at Piscine Global
Artesian Spas will be following up its product promotion success at the International Pool Spa Patio Expo by highlighting retailing success and an extensive hot tub and swim spa award-winning range at Piscine Global this week.
During the four-day Piscine Global showcase, running from November 18 to 21 at Eurexpo Lyon, the manufacturer's Doncaster-based European distribution team will be promoting its multi-range of options and Crystal AOP (Advanced Oxidation Process) technology on a large display area on Stand 6A74.
As well as showcasing choices in the Platinum Elite, Island Spas, South Seas Spas, Garden Spas and TidalFit ranges to the international audience and its European target market, including thriving UK, Belgium and Swedish markets, the exhibition will also provide an opportunity to highlight the enhanced South Seas range that has been extended with the imposing 965L.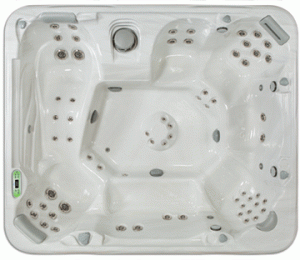 The 965L, coming in at 274 x 231 x 91cm, has been designed with seating capacity for eight people and is the largest model in the Deluxe Class of the popular South Seas range, including the 2014 WhatSpa? Best Buy Award-winning 518P. During Piscine Global Artesian Spas will be promoting the fact that the 965L has already received a hot reception among current retailers.
Artesian Spas Director Victoria Wrigglesworth, who attended the International Pool Spa Patio Expo in Florida with husband Simon and their baby daughter Emily Jane, has revealed that the 965L has received a hot reception from current retailers. She believes, though, that due to the niche marker element of the large model it should not be judged on its sales figures but as another welcome addition to the many choices provided by to dealers and their customers.
"The 965L is a niche product but it has been welcomed by our dealers this year," said Victoria; "Due to its size, this is never going to be the most popular of our hot tubs but it is a model that now fills a gap we previously had in our extensive range of options for our retailers."
Victoria also reported that the dedicated family-run organisation responsible for the thriving hot tub brand from May Manufacturing, has built on the success of achieving additional multiple 2014 WhatSpa? Best Buy Awards for the Antigua 33 and Dove Canyon, plus a WhatSwimSpa? Best Buy Award for the TidalFit EP-14 model, to help retailers post higher UK sales results this year than 2013, which had been a 20 per cent increase from the previous 12 months in 2012.
"Once again we've improved significantly on our previous year's sales totals in the UK. We've also done particularly well in Sweden during 2014.
"We will now be promoting this success and our extensive product range options during the Piscine 2014 exhibition ahead of another appearance at the UK Pool and Spa Expo in January."
Artesian Spas will be supplying comprehensive information about the complete hot tub and swim spa product range, plus providing briefings on the Crystal AOP system, to existing and prospective retailers on Stand 6A74 during Piscine Global. Opening hours for visitors will be 9am to 6pm on Tuesday and Wednesday, November 18 and 19, and on the final day of the exhibition, Friday, November 21.
On Thursday, November 20, the exhibition is open from 9am to 9pm; which is going to be including the Evening Party of the exhibition, with last entrance for visitors at 7pm.