Awareness boost after product acclaim
Distribution giant Superior Wellness is helping to promote Mental Health Awareness Week after gaining a sales and marketing boost by landing three awards in the prestigious WhatSpa? Best Buy Awards.
Hot tubs and swim spas have been providing physical and mental health benefits during the past two years of the COVID-19 pandemic and Superior Wellness are supporting Mental Health Awareness Week from May 9 to 15.
It is the 22nd year of the initiative and the theme this time round is 'Loneliness'. To mark this campaign Superior Wellness has been highlighting the support it provides to all staff members as part of an inclusive 'family' culture.
"We not only focus on physical health but mental health too," said Superior Wellness Head of HR Carol Claydon.
"I am a trained mental health champion and team members can speak to me any time. Our culture is like one big family, and we all support each other as one team. We are also based in the office and not at home, which will help with those who may have struggled during the pandemic with loneliness.
"We are very supportive as a team and ensure our work environment is a positive and happy place to be."
Mental Health Foundation Chief Executive Mark Rowland has declared that there needs to be a greater focus on loneliness and has called for anyone who has struggled as a result of being lonely to share their experiences.
"We hope this year's theme of loneliness will strike a chord with many of us who felt lonely and struggled throughout the COVID pandemic," said Mark. "We know that some people are at higher risk of experiencing loneliness and the evidence shows the longer we feel lonely, the more we are at risk of mental health problems.
"We must work together – as individuals, as a society, and through government policy – to reduce loneliness and prevent mental health problems by investing in welcoming, social spaces and new community initiatives."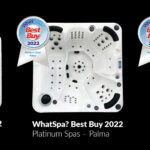 The 2022 WhatSpa? Best Buy Awards are published in the latest edition of WhatSpa? magazine and a trio of brands from Europe's largest hot tub distributor; including Platinum Spas, Be Well, and Thermal Spas; have received acclaim from the leading hot tub consumer magazine. Best Buy status has been achieved by the Platinum Spas Palma, the Be Well Vancouver and the Thermal Spas Hydro.
Within the Platinum Spas deluxe range, the Palma is a family size hot tub that is designed for six people with one lounger and five seats. It includes 87 powerful jets and LED lights.
The luxurious Be Well Vancouver hot tub is the ultimate hot tub with one lounger and five seats. Proudly built in Canada this hot tub is designed to withstand the world's harshest climates.
Also incorporating a lounger as well as four seats, the Thermals Spas is being proclaimed by Superior Wellness as the perfect hot tub for family entertainment with capability to relax rolled in.
"I am delighted that we have been awarded three Best Buy Awards," said Superior Wellness Business Development Manager Graham Message.
"The WhatSpa? magazine and website are very important tools for the end customer to use when finding their perfect hot tub. It is also great for our partner network to proudly say they are selling an award-winning hot tub."