AWG hosts uplifting cover system training
Experienced hot tub and swim spa distributor Richard Hart has been helping Covana installation technicians to follow his lead by hosting an uplifting training day with dedicated tuition on the automatic cover systems.
The Aqua Warehouse Group (AWG) chief and Covana Europe distributor hosted a training day, pictured, at his Essex-based showroom facility after completing online training himself from Covana in Canada. During the AWG training day, technicians from Lincolnshire and Wales were given specialist advice and guidance to ensure their future Covana installations are conducted correctly and professionally.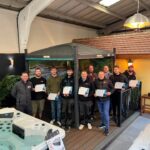 After completing his own Covana training, Richard confessed that he will not be utilising this knowledge to conduct any installations of the advanced automatic hot tub or swim spa covers, but stressed how important it is for other retailers to gain correct product knowledge even if they are not completing the installation themselves.
"I don't go out on installs anymore, " revealed Richard; "Thankfully, those days are behind me but it's still very useful knowledge to know as much as I can about the products we sell."
As part of the Covana Europe promotional activities AWG, which specialises in Vita Spa and Reef Spas, has been highlighting the importance of annual Covana servicing from a professional technician. This will ensure that they continue to function at the highest levels, by servicing them correctly and lubricating cylinders and chains during the annual procedure.
Meanwhile, AWG has recently completed its biggest January sale with a 'Beat the heat' sales and marketing initiative to highlight free delivery and installation with every purchase and is now introducing new point of sale and digital products to enhance retailing support.
This includes the Reef Spas 3D Visualizer for prospective customers to gain augmented reality hot tub project planning technology, and believes that dealers should be spending profits wisely by seeking out additional products this year to promote to existing and new customers to increase their opportunities for extra revenue this year.
Along with its hot tub and swim spa ranges and Covana options, which were showcased at SPATEX 2022 along with products from its Aqua Spa Supplies division, AWG has been promoting Remanso Pergola designs as a stylish way to provide weatherproof cover over hot tubs and swim spas and Richard has also recently introduced Sizzler Outdoor Kitchens to expand outdoor product choices.
"There has been very high demand for hot tubs and swim spas during the past two years and we realise that a lot of dealers will have gained very easy sales without having to do much work," said Richard.
"Customers may have been wanting products as quick as possible, without much thought about how good or suitable they are for their own personal requirements, but I think they now will be spending their money much more wisely.
"I think this year will be more challenging and that is why I believe it's important that dealers invest their profits from the past two years to provide more product choices and look to enhance their showrooms.
"Dealers who increase their stock levels and product choices for customers will be in a much better position to secure higher levels of sales than those with limited stock and low levels of complementary outdoor products and accessories."