Ban concerns raised with water companies
BISHTA has raised its concerns to Water UK about the potential discrepancies in hosepipe ban advice being given out across the country with hot tubs being targeted depending on where customers live.
The communication with Water UK, which is the representative voice of the water industry, follows the growing number of water companies that have introduced Temporary Use Bans (TUBs) – more commonly referred to as 'hosepipe bans' (due to water supply issues), BISHTA has recently attended a meeting with the relevant water companies to discuss how a more consistent approach can be adopted to avoid a postcode lottery for customers.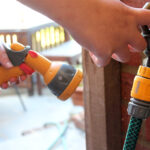 While the hosepipe bans impact domestic customers, BISHTA has revealed that currently water companies accept that businesses within the holiday parks and homes sector will be able to provide hot tubs within their accommodation packages.
BISHTA understands the pressures on water companies but has pointed out the inconsistency of messaging around hot tubs compared to the wording in the water industry and their 'Managing through Drought Code of Practice' that the water companies signed up to after the last hosepipe bans were put in place back in 2012. The guidance in the Code of Practice was updated in 2013, following feedback from various interested industries (including the pool and spa sector).
Domestic customers are only allowed to fill swimming pools or paddling pools with a hand-held container, such as a bucket. It is not permitted to fill or top-up a swimming pool or paddling pool with a hosepipe or fixed plumbing (e.g., an auto top-up device). Hot tubs are not meant to be included in the scope of the hosepipe ban, but some water companies have included them in their bans.
Currently, BISHTA is highlighting that swim spas are understood to be classed as swimming pools and so would be part of the ban.
The association has also reported that the first water companies in England that introduced the hosepipe bans (Southern Water and SE Water) have followed the guidance agreed between the water companies in their industry Code of Practice. So hot tubs are excluded from the hosepipe ban in these areas, while subsequent water companies have included hot tubs in their bans.
Clarification is now being sought from Welsh Water, South West Water, Thames Water and Yorkshire Water to determine a suitable way forward to achieve more consistency.
BISHTA has also highlighted that the vast majority of hot tubs have a circulation and filtration system to maintain water hygiene and has explained that they typically use about 1,000 litres (but it can vary between 800 to 1,700 litres, depending on the model). The association clarified that this water stays in the hot tub for at least a month, but suggested that with careful management, this can be extended for up to an extra two months, so it could be emptied quarterly.
The association also revealed that while hot tubs can still be filled or topped up using a hand-held device, such as a bucket in areas that they are included in the scope of the hosepipe ban, it is vital to ensure that there is consistent advice so that customers in the different water areas are not adversely affected, compared to another area.
Even for domestic swimming pools and paddling pools, there are agreed statutory exemptions, which BISHTA has highlighted such as:
Filling or maintaining a pool where necessary in the course of its construction;
Filling or maintaining a pool using a hand-held container which is filled with water drawn directly from a tap;
Filling or maintaining a pool that is designed, constructed or adapted for use in the course of a programme of medical treatment;
Filling or maintaining a pool that is used for the purpose of decontaminating animals from infections or disease;
Filling or maintaining a pool used in the course of a programme of veterinary treatment.
Filling or maintaining a pool in which fish or other aquatic animals are being reared or kept in captivity.
In a statement BISHTA said: "Discussions will continue with the water companies that are including hot tubs in their hosepipe ban to seek an agreed view on what statutory exemptions hot tubs may be permitted, if any.
"The hosepipe bans impact domestic customers first, and at the moment, water companies accept that businesses such as holiday parks and homes can continue to offer hot tubs as part of the package with accommodation.
"This usage is called 'business activity' and is defined as such by the Health and Safety Executive (HSE) and is included in their Health & Safety Guidance (HSG) 282, 'the control of legionella and other infectious agents in spa pool systems' (see para 76) https://www.hse.gov.uk/pubns/priced/hsg282.pdf
"BISHTA recommends that hot tub owners check their water suppliers' website for a list of their restrictions for domestic (and for business customers, if applicable)."
The association is also recommending that, where possible, hot tub and spa owners play their part to help conserve water and has advice at: www.bishta.co.uk/hot-tubs-spas/factsheets/tips-on-saving-water/