Superior Wellness has been promoting a prestigious Best Buy Award double that has been bestowed in the latest edition of WhatSwimSpa? magazine
The Thermals Spas Lusso Swim Spa received acclaim with a 2023 What Swim Spa? Best Buy Award in the sub-£24,999 price category, and the Aquark Mr Silence 11Kw heat pump technology received an inaugural What Swim Spa? Heat Pump Best Buy Award.
As the largest model in the range of swim spas Superior Wellness believes the Lusso is perfect for a swimming party. With outstanding design, sculpted seats and massage jets it is the ultimate in comfort, relaxation and versatility.  This is a real family swimming spa, a perfect investment for spending time with family and friends whilst providing the ultimate exercise workout. It can seat four adults with 45 jets, including six x 7.5 powerful swim jets and two large underwater LED lights.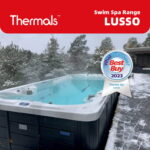 After gaining its inaugural Best Buy Award, the WhatSwimSpa? Verdict declared that the single-chamber Lusso, pictured, which comes in at 5.30 x 2.30 x 1.63m and has a water capacity of 10,500 litres, is an 'excellent family option' and highlights that it is designed with 'versatility in mind as a real family swim spa with a spacious swim chamber combined with four hydrotherapy seats and a dual-level corner step that can serve double duty as child seating'.
The Aquark Mr Silence 11 Kw utilises Inverpad® technology created by Aquark perfectly as part of the unique pad appearance, Stepless DC inverter and noise cancelling technology design. Enjoy; while the sound level is as low as a fridge.
"I am delighted that we have been awarded two Best Buy Awards once again," declared Superior Wellness Business Development Manager Graham Message.
"The WhatSwimSpa? magazine and website are a very important tool for the end customer to use when finding their perfect swim spa.  It is also great for our partner network to proudly say they are selling an award-winning swim spa or heat pump."