BISHTA Awards entry deadline looms
Hot tub retailers are being urged to highlight their achievements by submitting their entries for the 2015 BISHTA Awards ahead of the November deadline and judging period later this year.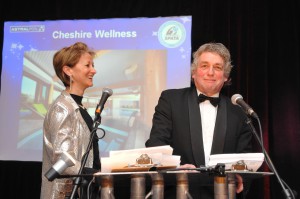 Gold Awards and industry recognition for multiple categories are once again up for grabs to companies that ensure their entry is delivered before the November 7 cut off date. Winners will then be officially announced during the presentation ceremony at the Awards Gala Evening on February 1 during SPATEX 2015 at the Ricoh Arena in Coventry.
Among this year's prestigious BISHTA (British and Irish Spa and Hot Tub Association) 2014 winners at the first presentation to be staged in Coventry, which also honoured BSPF and SPATA award-winning entries, was multiple-brand hot tub dealership Welsh Hot Tubs who won the Gold Award in the inaugural category of 'How My Hot Tub Changed My Life'.
The Aberystwyth-based L.A Spas, Marquis Spas and Vita Spas dealership, run by Steve Baxter, was rewarded with the industry recognition with the newly launched award for the work undertaken with parents of a 13-year-old child with Cerebral Palsy, who is restricted to a wheelchair and requires two carers at all times, to gain a major boost thanks to the care and attention by the team at Welsh Hot Tubs.
"Winning the award for 'How My Hot Tub Changed My Life was a fantastic win for us personally," said Steve; "As it outlines how our work has touched our client's life."
Artesian Spas, Elite Spas and Marquis Spas retailing couple Pete and Rachel Grinnal of Complete Spas also gained their first ever Gold Award honour after judges voted their entry  the 'Best Spa Installation in a Holiday Lodge'.
"You've got to be in it to win it!" declared Rachel.
Hydropool UK gained a hat-trick of Gold Awards during the presentation ceremony by coming top in the 'Residential Hot Tub Inground or on Decking'; 'Residential Hot Tub in an Overseas Setting'; and 'Swim Spa and Exercise Pools' categories
A Golden brace was also achieved by Certikin, Catalina Spas, DreamMaker Spas, Golden Coast and SCP product retailing specialist All Swim for 'Best Showroom or Exhibition Display'; and 'Best Website 2014'. Wooden hot tub dealership Riviera Hot Tubs also gained  double top Golds in the 'Residential Hot Tub below £10,000'; and 'Residential Hot Tub over £10,000' categories.
BISHTA is now appealing for hot tub companies to highlight their latest achievements with entries for the next batch of 2015 Awards. The organisation is also promoting the fact that it will be joining SPATA and BSPF among the growing band of exhibitors at SPATEX in February that have already confirmed their attendance for the second appearance at the Ricoh Arena in Coventry from February 1 to 3.
The three organisations, that will be appearing on Stand H1 in the Jaguar Exhibition Hall, also recently shared the stunning host location of the Cricket Thomas Hotel in Chard, Somerset, for their respective AGM's in September. It was also part of the President's Weekend schedule organised and hosted by current BSPF President Issy Rickards Sanger of Sunbelt Spas UK distributor Elite Spas.
While Issy chaired the BSPF AGM as part of here President's duties; the BISHTA meeting was chaired by Spa Crest and Villeroy & Boch hot tub retailing specialist Alex Kemsley from Waterstream; and Chris Hayes chaired the SPATA meeting on behalf of Richard Carrington.
Guest presenters Kelly Warren, from Avon & Somerset Police; and Peter Newport, from the Chemical Business Association; provided training on the 'Control of Explosives Precursors'; while Dr David Lapham from Pera Technology, presented training on 'Funding Opportunities in Our Industry'.
During the President's Weekend activities 'Issy's Aces' came out top in the air rifle shooting and archery contests against husband  Kevin's aptly named 'Kevin's Clangers' team. Becki Cannings celebrated achieving the Overall Highest Individual Score from both events during a Saturday evening dinner presentation, which was followed by entertainment in the Show Time bar with performances by the Rat Pack and a resident comedian.
Robin Flux of Arch Chemicals was renamed 'Robin Hood' after gaining the Highest Individual Score in the Archery Competition, while Dyfed Thompson Smith was on target to win the Highest Individual Score in the Air Rifle Shooting Competition. All winners were rewarded for their sure-shot exploits by being presented with 'no-expense spared' inflatable trophies and chocolate medals!