BISHTA providing early retailing Christmas present
BISHTA is providing a pre-Christmas present boost to retailers by encouraging more homeowners to invest in a hot tub or a swim spa during the winter months.
According to BISHTA (British and Irish Spa and Hot Tub Association), there are 100,000 hot tubs in the UK and the organisation is looking to help dealers to build on the high levels of record-breaking sales performances this year with a further winter sales boom by advocating the many hot tub and swim spa benefits currently being enjoyed by their owners.
To avoid all of the hard work of homeowners during the summer in the UK's gardens going to waste, BISHTA is now promoting the fact that a hot tub can extend the use of an outdoor space throughout the winter months, while providing numerous health benefits and adding a touch of glamour to a home.
"With hot tubs as one of the top ten must-have garden accessories in the UK, popularity for the home spas has grown tremendously in the past few years," said a BISHTA spokesperson.
"If a hot tub is on your shopping list this winter, there will be warm steamy bubbles to look forward to after a long day at work and a cold journey home. Plus hours of enjoyment for family, friends and any guest being entertained over the Christmas period.
"And if anybody's feeling generous – it may even make the perfect Christmas gift!"
The association, which conducts business checks on all of its BISHTA registered members to provide consumers with peace of mind hot tub and swim spa purchasing advice, has also provided an additional boost to retailers of swim spas and gazebos.
Multiple BISHTA award-winning retailer Deep End Pools is among the majority of retailers reporting record sales. The company's eCommerce Sales Manager Daniel Johnson revealed that sales of USA manufactured Saratoga Spas have shot over the 100 mark this year and believes that the thoughts of austerity measures are now being put to the back of consumer's minds.
"We have been doing some very good numbers consistently every month and have sold over 100 hot tubs this year," said Daniel; "I think that the austerity mindset has now slipped away. Our interest free finance options are proving popular and people are spending above their projected budgets."
BISHTA 'Showroom of the Year' and 'Hot Tub Website' Gold Award winner Jane Veysey at Catalina Spas, Certikin, and SCP, dealership All Swim has enjoyed phenomenal success this year with 2014 BISHTA honours and potentially the highest sales levels in the company's 42 year history.
"We're currently trading at our second highest ever level and we are not far off beating our all-time sales record," said Jane.
"All of our efforts have now been rewarded this year, which has been an exceptional one for our sales, as well as coinciding with the BISHTA Awards success during the past couple of years."
Stunning 'Garden Masterpiece' examples of hot tub installations from BISHTA award-winning dealerships, including Jacuzzi retailer Oyster Pools & Leisure, are featured in the 2014 edition of WhatSpa? Magazine; along with professional advice on how to build the dream spa retreat and ensure the project runs smoothly.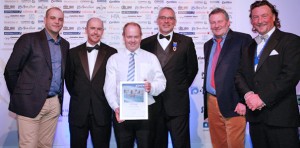 Among the WhatSpa? examples of enhancing a garden with a hot tub include an installation to capitalise on the stunning Welsh countryside by Endless Pools, L.A Spas, and Marquis retailer Welsh Hot Tubs. The BISHTA member, pictured, gained industry recognition this year as 2014 BISHTA Award-winner for 'How a Hot Tub Changed My Life'.
There is also a functional use of outdoor space by Jacuzzi retailing specialist Euphoria Leisure, whose client list includes reality TV star and singer Peter Andre. While, a modern hot tub sanctuary garden installation by Hydropool specialist dealership The Pool & Spa Company is another example; there is a stunning view of a roof top installation featuring a Beachcomber hot tub combined with a swimming pool by Harris Pools & Leisure.
The 2014 edition of WhatSwimSpa? Magazine, meanwhile, includes an installation Case Study that highlights how a lavish project by Knutsford-based Outdoor Heaven chief Adrian Lee has helped his delighted clients Phil and Sally Turner to gain the best of both worlds of relaxing hot tub hydrotherapy and swim spa fitness in a Coast Spas Phantom Infinity Edge model and flexible swimming area with Wellness II Performance Plus swim spa model, both from the Canadian manufacturer.
"We wanted the project to reflect our existing garden and historic property with a two-tiered approach with a dedicated level for the swim spa and an additional upper level for our dedicated use of the hot tub," explained Sally; "It's really worked out well and we're delighted with the finished result."
Adrian revealed that the project highlighted the benefit of seeking out a reputable dealership to provide professional product and installation knowledge before commencing with the project, which provide peace of mind guarantees to customers from both the retailer and manufacturer.
"That is one of the major benefits of choosing a reputable showroom source for purchasing swim spas and hot tubs," said Adrian; "Our customers know that we can be trusted and have testimonials and case studies to illustrate our high level of standing in the industry."
A Riptide Titan 5.2 swim spa is featured in an additional WhatSwimSpa? installation Case Study in which Riptide and HotSpring specialist Huw Chivers of Hot Tub Barn, which has three showrooms including the Knockholt site with 23 hot tub and swim spas on display, highlights the growing trend for swim spas in gardens as an alternative to swimming pools.
"More owners are considering swim spa installation projects with some form of cover as a cost-effective purchase compared to the major outlay, running costs and maintenance involved with having a swimming pool cleaned," revealed Huw.
BISHTA will be sharing exhibition space with SPATA and BSPF on Stand H1 at SPATEX at the start of February at the Ricoh Arena, in Coventry.
SPATEX 2015 opening times for the first two days of the exhibition will be 9:30am on Sunday, February 1 and Monday, February 2. Both days are then scheduled to officially finish at 5pm. In keeping with tradition, there is a shorter day on the third and final 'Spa Day' on Tuesday, February 3, which will run from 9:30am to 4pm.