Britain Goes Hot Tub Mad Following ITV Show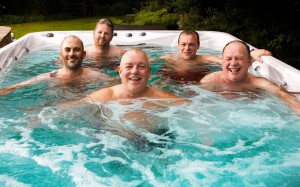 'Hot Tub Britain', the prime time ITV show that featured Blackpool business the Hot Tub Superstore, has helped deliver phenomenal sales results in the week following the show, for this family business.
Ross Phillipson, Sales Director at the Hot Tubs Superstore said: "The response to the show has been phenomenal; we have been inundated with messages of support and record breaking sales numbers.
"Previously we broke our ten year record for hot tubs sold in a week when we sold 60 hot tubs. In the 7 days following the first airing of Hot Tub Britain we have sold 218 hot tubs and are making on average £21,000 per hour turnover, with 350 finance applications already submitted. To quantify this even further the average UK hot tub dealer sells around 20 hot tubs a year, so we are doing pretty well!
"We saw an increase of traffic to our website of over 1700% on the day of transmission alone. To date the most visitors we had to our website in one day was 3,000 but in the week after the show first aired we have had 174,000 visits and the numbers are still rising.
"Across Twitter and Facebook we have had some great engagement; during the show #hottubbritain was trending at number 3 (above the iphone6 launch!) and our Twitter followers have increased by 120%. Across Facebook our likes have increased by 25% and the average post reach has increased by 210%. Now we are just waiting for the series."
'Hot Tub Britain' was first aired at 9pm on Tuesday 9th September on ITV and has received wide media interest with comment on the Scott Mills show on Radio One and from the Loose Women amongst others. The hot tub trend is really capturing the imagination of the nation and isn't hurting the business for the stars of the show; the Hot Tub Superstore.
Produced by TV production company Shiver, the Hot Tub Superstore are now waiting to see if a series will be commissioned and where this could take them and their business.