British hot tub manufacturing boost
RotoSpa has gained a publicity boost for its production expansion of popular domestic and hot tub holiday designs with a manufacturing award after being featured on a TV programme showcasing British manufacturers.
The RotoSpa team has been celebrating following being bestowed with the 'Excellence in Manufacturing 2022' award at the annual Greater Birmingham Chambers of Commerce Awards.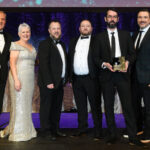 "Our team have worked incredibly hard and truly deserve this honour," enthused RotoSpa Marketing Executive Sophie Wiggett; "We are proud to be flying the 'British Manufacturing' flag for our local town Sutton Coldfield and honouring Birmingham as the 'City of a Thousand Trades'.

"RotoSpa have invested in developing a new West Midlands-based production facility, coupled with the Sutton Coldfield Head Office, a newly constructed training centre, and a flagship showroom. Opportunities for local job creation are growing rapidly."
With power consumption and 'green' initiatives high on the UK and global agenda, RotoSpa has also been implementing energy-efficiency strategies and additional methods for reducing its carbon footprint.
"Our vision for 2022 is to be the leading manufacturer of rotationally moulded spas in the UK, recognised for the integrity of our people, the ethics of our business practices and the quality of our products and service," reported Sophie.
"As a manufacturer it is vital that we are constantly striving to create a product that is more energy-efficient than before. With our larger manufacturing plant, we are taking steps with the Greater Birmingham Grow Hub to implement lowering our carbon emissions further, as well as 'offsetting' our carbon footprint.
"Our existing tree planting initiative is underway with UK 'Woodland Trust' donations, who we will continue to support throughout 2022."
The British Holiday and Holiday Park Association (BH&HPA) member has also gained TV publicity for its British manufacturing credentials before being bestowed with a brace of 2022 WhatSpa? Holiday Park Best Buy Awards for the RotoSpa Serenity and Escape models.
Representatives from RotoSpa linked up with producers at Daisybeck Studios in 2019 but filming was initially delayed due to the COVID-19 pandemic before the screening last year of the ITV4 show 'Made in Britain'.
"We saw this as a great opportunity to tell our story and be part of celebrating British manufacturing," divulged RotoSpa Managing Director Karl Rowntree.