British promotion for enhanced hot tubs
Hot tub manufacturing giant Watkins Wellness will gain British promotion of its enhanced product lines in the Utopia Series for Caldera Spas dealers during the 21st edition of SPATEX at the Ricoh Arena in Coventry.
The iconic USA manufacturer promoted new versions of popular hot tub models in its feature-packed top-end Utopia Series to a large European and international audience during the recent Piscine Global exhibition in Lyon. Its exclusive UK distributor Certikin International will now be showcasing the revamped Cantabria that has become a popular choice for owners who have large families and want a spacious hot tub for socialising, as part of its Utopia Series and Caldera Spas product options promotion for current and prospective dealers during SPATEX 2017.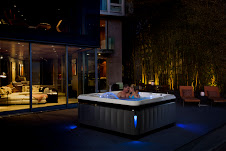 There are now four stunning new Caldera Spas Utopia Series models in the enhanced luxury range, which include the six-seater Tahitian, pictured; the six-seater Geneva; seven-seater Niagara, as well as the eight-seater Cantabria flagship model that has been showcased previously at SPATEX by Certikin.
This year Watkins Wellness  has been busy making changes to the Caldera Spas Utopia Series after being bestowed with a hat-trick of WhatSpa? Best Buy Awards for the brand in the tenth anniversary edition of the consumer magazine.
Gaining a successive well-deserved Best Buy Award in the highest price bracket, the imposing Cantabria has been joined by the Capitolo and Marino in achieving 2016 Best Buy accolades in lower price categories for Caldera Spas, which was established in the 1970's and acquired by Watkins Manufacturing, the former name of Watkins Wellness, in 1999.
This formidable market-leading company, and its hot tub brands that include the Fantasy Spas range that is also exclusively distributed by Certkin to UK dealers, is owned by the formidable Fortune 500 Masco Corporation that has built up a worldwide family of companies since its inception in 1929 with companies such as Delta, KraftMaid, Behr and Milgard in its stable.
Over the years Caldera Spas has gained successive recognition in WhatSpa?, which has helped to highlight the brand's exceptional seating comfort as a result of its meticulous attention to the seat designs by the manufacturer.
Various seating capacity options are available in the Utopia Series, as well as the Paradise Series and Vacanza Series and they all have gained a foothold in the British market thanks to the same 'Pure Comfort' design features and Caldera Spas craftmanship, which Watkins Wellness is famed for.
This concept ensures every seat is ergonomically sculpted to comfortably cradle the hot tub user's body. Lounge seats are also specifically manufactured to ensure total relaxation and comfortable buoyancy for occupants while remaining in the desired position.
Now Caldera Spas dealers have even more innovative design features to promote to their prospective customers including the immediate allure of the revamped Utopia range, which comes from its new Avante all-climate cabinetry that gives it a strong architectural impression.
Featuring long-strand fiber technology, it is durable and innovative, and comes with a five-year warranty. It is currently available in three stunning earth mineral hues, which are brownstone, slate and sand.
In the Utopia model's shell, details are kept minimal, elegant and contemporary. The curved bar top design adds to the signature look and creates a strong visual impact.
The hydrotherapy experience is heightened by the addition of two Euphoria Jets in the footwell; dual 'his and hers' EcstaSeats, hip jets and angled calf jets. These currently vary depending on the model.
One of the benefits of the new design is that the access door can be removed and replaced with ease. Just a simple clip system safely secures the door to the frame.
Enhanced lighting has also been incorporated into the revisions and up to 14 pinpoint lights have been added to the existing zone system to add dramatic impact. The new logo light is both a functional device that lets the owner know when their hot tub is ready for use or needs attention, and a clever way to elevate awareness of the brand.
Oxford-based industry heavyweight Certikin, which is the largest trade distributor of swimming pools, spa and hot tub equipment in the UK, has steadily been increasing its Caldera Spas dealer network and the profile of the brand's pedigree manufacturing designs to British consumers with a high-profile advertising and marketing campaigns in trade and consumer publications.
The distributor, under the guidance of industry stalwart and Certikin Commercial Director Ben Studdy, will now be ramping up its promotion of the enhanced Utopia Series range and additional Calder Spas models with another major exhibitor presence at SPATEX.
"Since 1976, Caldera Spas has been at the forefront of spa design," said Ben. "As we turn the corner on 40 years, we continue that leadership position with a complete design transformation.
"The result is a unique offering of high performance, functionality and style. Along with a complete exterior and interior redesign, we have added a number of new features and enhancements.
"These include lightweight, easy snap-on panels and door, making them easy to handle."
Visitors to SPATEX 2017 will have an opportunity to view the new design features of the Cantabria, which has been lined up by Certikin as one of its main attractions for hot tub dealers at the wet leisure showcase, as well as gaining details of becoming a Caldera Spas or Fantasy Spas dealership and further information about the full product lines for the respective brands.
If you would like to gain further information on the new Utopia Series or about becoming a Caldera Spas dealership before SPATEX then telephone Certikin on 01993 778855.
To book stand space for the 21st edition of the exhibition, running from Tuesday, January 31, to Thursday, February 2, in the Ericsson Exhibition Hall of the Ricoh Arena,  contact the SPATEX team via email: helen@spatex.co.uk or michele@spatex.co.uk or telephone directly on: +44 (0) 1264 358558.