Cake sale booster for Fibromyalgia charity
Distribution giant Superior Wellness will be hosting a cake sale on Friday to raise additional funds for national charity partner Fibromyalgia Action UK as part of a week-long awareness event.
The cake sale, on September 9, is the latest initiative to raise funds since the partnership with Fibromyalgia Action UK began in 2021, which has so far seen Superior Wellness raise over £5,000 in a series of charity events; including taking part in Tough Mudder last year that helped to gain extra funding of almost £3,000 for the charity.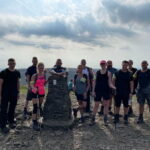 This year a Yorkshire Three Peaks Challenge, which takes on the peaks of Pen-y-ghent, Whernside and Ingleborough, was undertaken recently by Superior Wellness team members, pictured, that has already surpassed the £800 mark.
For the Fibromyalgia Awareness Week, from September 4 to 11, Superior Wellness has been highlighting that although there is currently no cure for fibromyalgia, there are treatments to help relieve some of the symptoms and make the condition easier to live with.
In particular, Superior Wellness is promoting the fact that hydrotherapy and relaxing in warm water are a great way for those suffering with the condition to find some potential respite. Routine soaks can also help relieve stress which is another that can make symptoms more intense.
"A number of customers who have fibromyalgia have told us that a nice soak in a hot tub has helped them," reported Head of Marketing Sarah Elphick.
"Warm water and the hydrotherapy from the jets can make a difference."