Cal Spas joins hot tub invasion
Hot tub retailers are being targeted to promote an exclusive signature range by Olympic gymnast and 'Strictly Come Dancing' star Louis Smith MBE as part of a new distribution deal with Cal Spas for the UK and Northern Ireland.
Posh Spas Leisure is the latest distributor to bring a USA hot tub brand to the UK for expansion through a dedicated network to service this market. Following lengthy discussions with California-based owners LMS, the Peterborough-based company has agreed to form an exclusive UK distribution alliance for Cal Spas, which was established in 1979 from pool building firm California Acrylic Industries.
To spearhead the promotion of Cal Spas in the UK, family-run Posh Spas Leisure has also launched an initiative to work closely with the manufacturer and Louis Smith to introduce a special Signature Series of hot tubs and swim spas to the British market.
Louis has already been flying the USA flag to promote his involvement after visiting the 1-million square foot Cal Spas factory in Pomona to work with Posh Spas Leisure on selecting the ideal models and features for his new Signature Series.
The endorsement deal will reflect the gymnast's character and represent a premium line of hot tubs and swim spas with an emphasis on wellness and a healthy lifestyle.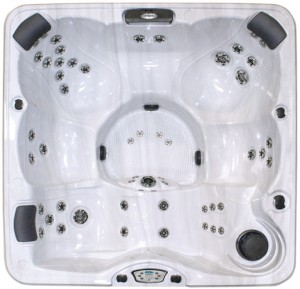 Louis Smith Signature models currently include the E751L, pictured, which has a lounge seat and contoured captain seating to accommodate up to six people; as well as the E 800L, E700DL, E800L, E948L, P760L, and P880L.
Along with the Louis Smith Signature Series, the Posh Spas Leisure team will also be distributing the entire range of Cal Spas products; which has the Consumer's Digest Best Buy Avalon A857B and A857L in its stable of hot tub models; and is currently in the process of appointing progressive retailers for dealerships in key territories throughout the UK and Northern Ireland.
The deal follows the introduction of the Saratoga Spas range of hot tubs to the UK by Deep End Pools and new USA arrivals from established distributors this year. Elite Spas has just launched its distribution deal for Aspen Spas at the UK Pool & Spa Expo and SPATEX, which also saw the Tuff Spas brand make its debut on the Spa Crest Europe exhibitor stand this week at the Ricoh Arena as part of a joint supply deal with the Waterstream Group.
Despite this additional competition from other USA brands, Posh Spas Leisure owner Andy Hutchinson believes his company has the perfect credentials to ensure the distribution service for Cal Spas is a success. He stressed, though, that the emphasis would be on building relationships with retailers within sustainable dealership territories.
"We've been in the hot tub industry for a decade and understand the UK market place," said Andy.
"I have a background in distribution and logistics, so feel we are very well qualified to represent Cal Spas in the UK. We want to go back to the basics of looking after dealers and building relationships.
"I'm proud that Posh Spas Leisure is a family business and I want to welcome committed professional people to the Posh Spas family. We certainly aren't chasing the idea of signing up countless outlets.
"Our concept is very much about having a small number of truly passionate people in key areas and giving each a very credible territory to work with. In our past we have been subject to territory issues with manufacturers and we don't intend to make the same mistakes."
As well as having the supply line from a company that has over 250 product lines; including swim spas, gazebos, firepits, saunas and BBQs, plus 28 trademarks and 48 design patents and proclaims to be the number one Global Manufacturer of Home Resort Products; Andy is relishing having the Louis Smith Signature Series of models as an additional marketing tool to promote the Cal Spas brand in the UK and attract dealers.
"We are so excited to be working with Louis who has been a family friend for many years," divulged Andy; "We feel that the Louis Smith Signature Series will be a fantastic marketing tool to help drive the all important foot-fall to dealers' showrooms.
"Louis is an inspirational character who I believe people will engage with and see as a credible ambassador for the benefits of hot tub ownership.
"We've also partnered with a well-respected marketing professional with many years of experience to ensure our corporate message is the strongest it can be to ensure our dealers have the very best tools to succeed.
"These are very exciting time for Posh Spas Leisure, Cal Spas and Louis Smith and we are only just beginning…"
Posh Spas Leisure is now inviting retail professionals with an interest in representing Cal Spas and the Louis Smith Signature Series to contact them via email: info@calspas.co.uk