Campaign to support pedigree dealers
Pedigree hot tub dealers are being boosted by a nationwide BISHTA campaign that is warning consumers to be aware of the rise in false marketing and promotional claims about manufacturing origins of products.
BISHTA has issued a safety alert to British consumers in response to the growing concern within the industry that misleading and bogus sales tactics by 'cowboy dealers' are being used to imply that hot tubs they are retailing are being sourced from UK or USA-based manufacturing companies when they are in fact poorly or dangerously manufactured products being shipped in from other parts of the world, which do not have strict production standards that pedigree companies comply with.
As part of its core aim to 'promote safe hot tub standards', BISHTA is currently advising consumers that when it comes to high-ticket items, such as a hot tub, it is important to know 'what is under the bonnet' when it comes to hot tubs, especially those being promoted by 'faceless' websites that are not able to provide additional water care and product knowledge from the initial sale onwards, as well as servicing, product maintenance and support to ensure safe use of the hot tub in the future.
"There is a growing trend for some companies supplying hot tubs to claim or imply that the goods they sell are manufactured in the UK or North America when in fact, they come from elsewhere in the world," says BISHTA; "Misleading customers into thinking they are buying a product made in one country when it is manufactured in another and potentially not even in the same continent!
"Buying from an online marketplace also raises concerns, and BISHTA has been warning consumers that the products they are considering buying may not be guaranteed to come from a reputable source. When purchasing products described as 'used' from online market places, customers are being warned to ensure that they are cleaned and treated properly to ensure safe usage.
"Unfortunately, there are hot tubs on the market that look the 'real-deal' on the outside, but inside the casing, the hot tub is of a lower quality; and in some cases may not be up to standard. In extreme situations, they could potentially be dangerous.
"Repairing problems may not always be straightforward if parts are hard to source and expensive to replace. But the most concerning issue is that these cheaply manufactured products have the potential to cause harm through entrapment, electrocution and fire. A terrible thought, when in most cases, equipment purchased from a reputable retailer will be a great addition to a household that can bring the whole family fun, relaxation and health benefits."
Within the warning of the alert, BISHTA Managing Director Chris Hayes has declared that customers should always be able to make an informed choice about the products they purchase and that BISHTA does not endorse or support any companies who seek to mislead customers regarding the products they sell.
"BISHTA expects its members not only to provide products that meet industry standards, but also to abide by its Code of Ethics," said Chris
"Our advice to consumers is to always seek further information, in writing, from the company supplying the hot tubs regarding the country of manufacture, as well as information on safe installation, set-up, future care and maintenance."
The move follows work by Canadian manufacturer Coast Spas to enhance the standards for hot tubs in Europe by linking up with BISHTA in a bid to assist pedigree dealers in the UK and throughout the continent in their efforts to highlight the problem of poor quality hot tubs by promoting the strict standards of quality manufactured products to consumers. The domestic spa and hot tub standard (EN 17125) has been available for public consultation, known as a 'CEN Public Enquiry', leading up to the next meeting of the Working Group that is currently developing this standard (TC 402 WG4).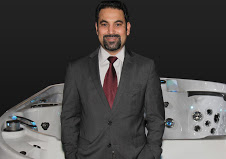 Coast Spas Executive Vice President of Operations Jatinder Sidhu, pictured; who has recently been appointed to the US Technical Advisory Group to represent the hot tub industry internationally in overseeing standards for consumer goods, which specifically relate to hot tubs and spas; has played a key role in helping the Working Group to progress with the development work and to harmonize standards between continents as part of membership of the British Standards Institute (BSI).
"Coast Spas CEO Don Elkington approached various hot tub and spa industry associations globally to take action and to put a stop to non-compliance products being built by many companies," reported JT.
"Don's efforts led to the involvement of the Association of Pool & Spa Professionals (APSP), the International Hot Tub Association (IHTA) and BISHTA. Discussions then began at the international level in Germany, the home of worldwide standards body DIN on harmonisation of standards with the goal of uniform standards for hot tub and spa manufactures to comply with.
"The scope of the new standards under development covers parameters in detail for portable, domestic, self contained hot tubs and swim spas. The standard also outlines the specialist technical items of equipment necessary for a properly equipped hot tub to ensure it is clean, health and safe to use."
For a number of years WhatSpa? and its sister publication WhatSwimSpa? have been highlighting a growing band of WhatSpa? Approved and WhatSwimSpa? Approved retailers and teaming up with reputable showroom retailers and pedigree manufacturers to support BISHTA in its efforts to help highlight the growing consumer threat from 'online bandits' promoting poorly manufactured products.
Thriving multiple award-winning Marquis and Vita Spa hot tub and swim spa retailer and Lincolnshire-based 1 Stop Spas chief Chris Brady is among a number of respected dealers in a 'Net Dangers' editorial feature in the 2017 editions of WhatSpa? and WhatSwimSpa? to warn consumers about poorly manufactured hot tubs and swim spas and to promote the fact that he has launched a new SpaTech Training scheme this year to ensure 'cowboy dealers' and 'internet bandits' do not take advantage of unsuspecting 'web shop' customers who then become victims of unscrupulous sales activities.
Chris has linked up with BISHTA and the APSP for their vital advice and support to allow the SpaTech Training scheme to get successfully off the ground after promoting it at recent wet leisure exhibitions in the UK. He believes the new scheme will help to convince consumers to seek out dealers who supply pedigree products and that have gained the highest level of training; from specifically designed courses for the British hot tub and swim spa markets focusing on technical and safety related tuition and professional development of professionals within the industry.
"Unfortunately there is still a problem of poorly manufactured hot tubs being purchased online and being delivered without any qualified instruction on how to use them safely," said Chris.
"As an industry we should be doing more to encourage consumers to visit showrooms and seek out professional advice from pedigree dealers. They then can do as much research as possible and gain additional information about the types of hot tubs and swim spas that are on the market from professional retailers, rather than risking losing their investment by taking the risk of purchasing poorly manufactured products online."
The first stage of the initial SpaTech Training courses commenced in the spring after a very positive response from dealers during promotion by Chris at the Hot Tub Living Expo and SPATEX and dealers can find out more about the courses at www.spatechtraining.co.uk and sign up for future training provision. This will cover a broad spectrum of tuition that includes: APSP Certified Hot Tub Technician; Hot Tub Specific Manual Handling; Water Chemistry Training, Holiday Park Hot Tub Management; Forklift Initial and Refresher Training; Hiab Training; Telehandler Training; First Aid at Work; and Fire Safety Training.
"We've launched the SpaTech Training scheme to help prevent cowboy dealers from thriving in the market by taking advantage of hot tub consumers and we've had a great response at the exhibitions and a lot of interest from the industry.
"Established dealers are very keen to receive SpaTech Training so that they can then promote the fact that they have received professional and certified tuition to prospective customers.
"Showroom dealers who have undertaken BISHTA and SpaTech Training courses will be able to provide prospective customers with confidence that they are going to purchase pedigree products with the correct levels of guidance on how to safely use them."