Canadian Expo providing home comfort
Hot tub and swim spa brands that have been gaining high-profile recognition in the UK and Europe have signed up to appear closer to their home markets at the 34th edition of the Canadian Pool & Spa Conference & Expo.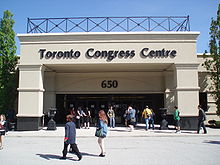 Sponsored and organised by the Pool and Hot Tub Council of Canada, the largest annual event serving the $1billion Canadian industry and market, will run from Monday, December 1 to Thursday, December 4, at the Toronto Congress Centre. The host venue is less than 4km from Pearson International Airport and just a short drive from New York State.
Exhibitors (with stand numbers) taking part in the two Expo days on Wednesday and Thursday, will include: AquaFinesse 25, Bullfrog Spas 811, Coast Spas Manufacturing 16, Dynasty Spas 120, Dundalk Leisure Craft 925, Hydropool Hot Tubs 815, Imperial Pools Inc/Saratoga Spas 423, LaMotte 412, Leisure Pools & Spas Mfg, North America 236, Pleatco 814, Pool & Hot Tub Council 5, Roto Spa Inc 417, Signature Spas USA 920, and Strong Spas 112.
Coast Spas, Dundalk Leisure Craft, and Hydropool will be staking their claims as exhibitors on home soil during the Expo, alongside USA manufacturers including New York-based Saratoga Spas.
Coast Spas Manufacturing is following up attendance at the recent Piscine Global exhibition in Lyon and the International Pool Spa Patio Expo in Florida, to showcase its flourishing hot tub and swim spa product range on home soil on Stand 16, in a prime location near the New Commercial Products area. As well as promoting the fact that the company has a prestigious 'Best Hot Tub Brand' Consumer Choice Award honour, the manufacturer has also landed a 2014 WhatSpa? Best Buy Award for the Luxury Cascade II; and a WhatSwimSpa? Best Buy Award for the Wellness II model this year.
Hydropool will be heavily promoting its hot tub range, which includes the 2014 WhatSpa? Best Buy Award-winning H670 Platinum, on Stand 815 at the Expo. The manufacturer has also gained a 2014 WhatSwimSpa? Best Buy Award for its AquaTrainer 19DTfx, which is in the thriving swim spa stable of products that was promoted at the UK Pool and Spa Expo in February; with endorsement from former Olympic swimmer Sharron Davies, who visited the Hydropool stand this year at the NEC in Birmingham.
Canadian wood burning hot tub manufacturer and outdoor barrel and indoor sauna specialist Dundalk Leisure Craft will be exhibiting on Stand 925, ahead of an appearance at the UK Pool & Spa Expo 2015 in January. The Ontario-based family-run company will be promoting a new electricity-free Outdoor Red Cedar Hot Tub that generates heat from a wood-burning stove.
Other exhibitors (with stand numbers) at the Canadian Pool & Spa Expo will include: Atlantis Water Products 614, Barrier Reef Pools Canada 127, Bio-Lab Canada Inc 512, Canada Pool Coating 834, Canadian Chlorine Chemistry Council 413, Canadian General-Tower Ltd 706, Central Spa & Pool Supply Ltd 826, Cleardeck Systems Ltd 106, CLM Distribution Pool & Spa Products Inc 916, Consolidated Pool & Spa Industries Inc 821, Coverstar Canada 602, Covertech Industries Ltd 908, Custom Molded Products Inc 212, Del Ozone 800, Dolphin Fiberglass Pools 13, Fox Pool Canada Ltd 410, Hayward Pool Products 400, Highbury Pools Ltd 820, Inter-Fab Inc 513, Intrachem 224, Kebechem 224, Kelly Technical Coatings Inc 700, Latham Pool Products 608, Lonza 734, Magic Plastics Inc 308, Maytronics 910, McEwen Industries 310, Mursatt Chemicals Ltd 712, Natural Chemistry 414, Nirvana Heat Pump 321, Pentair Aquatic Systems 4, Pleasure-Way Pools 621, Prestige Spa Covers 704, RBF International 230, Savi Pool & Spa (a Division of Zodiac Pool Systems Inc 210, SCP Distributors 810, Swim'n Play 103, The Spa Marvel Company 425, Tianjin Pool & Spa Corp/W&W Marketing Corp 327, Trendium Pool Products 634, Unicel 804, Val-Therm International Inc 905, Viking Pools 111, Vinyl Masters Inc 828, Waterco 518, Waterway Plastics 801, Zodiac Pool Systems Canada 500.
Attendance was up 2.6 per cent in 2013 from the previous year and Pool and Hot Tub Council of Canada Executive Director Robert Wood expects this year's attendance to be in excess of 2,000 visitors after three years of the event being hosted in Niagara Falls, Ontario.
"Attendees will include literally hundreds of representatives of dealers, builders, designers and service companies from across the country and the northern United States," said Robert.
"We had a tremendous three years in Niagara Falls. Like any event, we don't want it to go stale. Niagara Falls and Toronto are successful historically, and to alternate between them gives some variety.
"So often professionals are busy working and don't have a chance to talk to their peers. This gives them that chance."
Exhibitor Lynda Stykel of Dolphin Fiberglass Pools will be hoping her Stand 13, is 'lucky for some'. She has praised the organisers ahead of this year's event for creating a family atmosphere at the Expo.
 "The organisers of the show do an excellent job, and make us all feel like we are a big family," said Lynda.
The Canadian Pool & Spa Expo opening hours are 10am to 5pm on Wednesday, December 3; followed by the Industry Awards Banquet, from 5:30pm to 9:30pm. The Expo will be open between 10am to 3pm on the second day, Thursday, December 4.  
The Canadian Pool & Spa Conference dates are December 1 to 4, while the Annual General Meeting will be held on December 2, from 6pm to 8pm, followed by the President's Reception.
Once again, the popular 'Hot Topics – Hot Breakfast', with four lively round-table discussion, has been scheduled for Thursday, December 4. Educational elements have been expanded though, with the two-day CPO course being complimented by six short courses on subjects including hot tub service and maintenance and advanced water chemistry.
www.poolandspaexpo.ca