Capitalising on new UKPSE 'Wellness Area'
Dundalk Leisure Craft will be capitalising on a new dedicated 'Wellness Area' at the UK Pool & Spa Expo to highlight additional sauna retailing opportunities for hot tub dealers and wet leisure specialists visiting the third outing of the exhibition.
The inaugural outing for the Wellness Area this week, in Hall 10 of the Birmingham NEC from January 22 to 24, will focus heavily on the sauna industry that has been promoted in previous years by exhibitors spread throughout the exhibition hall.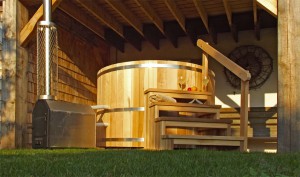 It is being launched as a dedicated area to showcase associated services, products and technology that are providing health benefits to sauna users; provided by companies such as Canadian outdoor barrel and indoor sauna specialist Dundalk Leisure Craft.
As well as its Cedar saunas, the Ontario-based family-run company produces cooperage-style wood burning hot tubs handcrafted from clear western Red Cedar, gazebos and outdoor furniture.
During its successive outing at the UK Pool & Spa Expo, the exhibitor will be promoting detailers of an electricity-free Outdoor Red Cedar Hot Tub that generates heat from a wood-burning stove.
New barrel sauna options, for current and prospective retailers, are also being highlighting during the exhibition including a Cove Overhang design, to provide owners with a roof over the sauna doorway but without a full porch; as well as its new square cabin saunas.
"Saunas and steam have always had an influence at our event and this year we will be shining a spotlight on the sector with a dedicated Wellness Area," said UKPSE organiser Claire Saunders.
 "The health benefits of wellness facilities are vast and significant and the UK Pool & Spa Expo will be creating more awareness of these through live event content."
Dundalk Leisure Craft will be appearing at the UK Pool & Spa Expo on Stand 500.
UK Pool and Spa Expo 2015 opening hours for the first two days of the show, on January 22 and 23, will be between 10am to 5:30pm. On Saturday, January 24, the third and final day of the UK Pool and Spa Expo is the Consumer Day that will be staged between 10am and 3pm for exhibitors in Hall 10 to meet with members of the public as well as trade representatives.
www.ukpoolspa-expo.co.uk