CEC status for new Deluxe designs
Newly-launched Platinum Spas designs from the Deluxe Range of hot tubs by Superior Wellness are now being promoted with the assurance for prospective owners that they have passed CEC testing.
Five models in the form of the Tahiti, Refresh, Happy, Palma, and all-eater Seville, have been launched with premium features and upgrades and have now gained CEC status as an extra energy-efficiency promotional boost for dealers of the Premium Spas Deluxe range designs.
Superior Wellness is highlighting that the California Energy Commission (CEC) is the only third-party accreditation organisation recognised by the spa and hot tub industry and the Chesterfield-based company believes the fact that the new Platinum Spas Deluxe range has been CEC tested shows the commitment to being more energy-efficient.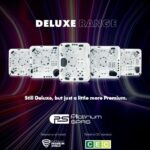 "We are delighted that the new range is CEC certified," said Superior Wellness Sales Director Gareth Ward.
"The Deluxe range now includes the award-winning energy-efficient insulation Platinum Premium Shield. This is designed by the Superior Heatlock Insulation Process which provides a considerable difference in the heat retained in the hot tub as well as a reduction in energy costs.
"With a focus on innovation, the latest technology and an abundance of features, the new range includes a number of improvements."
For a cleaner look the control panel is now solely located on one side without the distraction of other components and features. The jets and diverters have also been upgraded to provide enhanced hydrotherapy massage capability.
Other improvements include new speakers for the audio system. These speakers are located on top of the acrylic rather than on side panels.
The overall thickness of the new fabric cover has been increased to provide greater insulation and energy savings, while the circulation pump has also been upgraded and is now a much quieter and more energy-efficient version.
"The Platinum Spas brand continues to innovate every year with new models being introduced to ensure they offer the very best in technology and design, with a wide choice to suit every budget," said Gareth.