Certikin promoting multiple HQ advantages
Water leisure product powerhouse Certikin is marking its 60th anniversary by promoting the eco-friendly and efficiency advantages of its state-of-the-art headquarters premises at Tungsten Park in Witney.
Among the multiple advantages of the building, which is heading towards its second anniversary of being fully-operational, is a vast new warehouse that accommodates the UK's largest stock of water leisure equipment. It has over 9,500 product lines for both domestic and commercial pools for new build and retro-fit markets as well as wellness, spas, saunas and aquatics.
Increased efficiency is achieved due to the 11 dock level loading doors, with an extra seven level access doors, including one dedicated to customer collections. This is now a total of 18 compared to just seven across the entire previous premises.
The building also provides Certikin with new technologies for efficiency and Health & Safety requirements. As well as the dock level loading doors, goods lifts have been installed on both mezzanine floors, while latest technology provides improved security and helps manage access to and from the building.
A very well insulated structure incorporates myriad of eco-credentials, including charging points for electric cars in the 165 space car park, and cycle storage. There is also a sophisticated recycling programme in place and throughout the building there is motion-sensor LED lighting.
Located on Witney's Downs Road, the Certikin headquarters is part of a 24-acre site, just 500 metres from a new junction on the A40 providing easy access to Oxford and Cheltenham, along with the main arterial routes of the A34, M40, M4 and M5 motorways. Construction began in spring 2020 and, despite COVID pandemic complications, it was fully operational by December 2021.
Certikin Operations Director Tim Wilson spearheaded the in-house team that designed and delivered the project, working alongside architects and developers to ensure that the project would deliver a building that would meet the specific demands now and into the future to help Certikin, which commenced its 60th anniversary celebrations earlier this year at SPATEX 2023, achieve further growth and success in the wet leisure market.
"Certikin's unique strength is not only its extensive product portfolio, but the fact it is coupled with an extremely high level of technical knowledge," divulged Tim.
"At the old site, we were working across three buildings. Now, with just one building, and the workforce gathered under one roof, our teams are able to work closely, leading to a more joined-up and efficient level of customer service."
Certikin, which launched a new partnership with Wellis at SPATEX this year to supply HSG 282 compliant hot tubs to its trade customers from a WhatSpa? Holiday Park Best Buy Award-winning range, is also taking advantage of its 60th anniversary year to promote an impressive staff retention record. Four members of staff celebrated their 25th year of service last year, taking the current number of long-service employees to 14. It is believed that the welcoming Witney HQ will help the company in its current quest to attract further recruits.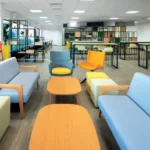 To help provide a welcoming and interactive environment for over 130 employees there are attractive break-out areas, meeting tables and refreshment-making facilities. The bright and spacious canteen on the second floor is an additional on-site space for staff to relax and dine during breaks and lunch hours.
As part of the design process, artistic flair was allowed free rein when it came to the stylish decoration of the four meeting rooms that have been named after the local area's landmarks and heritage. These are Cogges, Windrush, Wychwood and Weavers, with the latter in recognition of Witney's blanket-making past.
Each room provides unique features, with the Windrush being designed to reflect the River Windrush, the banks upon which Witney developed. The boardroom within the new building, meanwhile bears the name of one of the company's founders, and industry pioneer, Peter Geekie. Along the gallery-lined corridor is a selection of images of customers' prized installations using Certikin products ahead of 'The Academy' training area.
"This is where Certikin staff and suppliers regularly host in-house training sessions for our customers to extend industry knowledge and provide a greater understanding of our extensive product portfolio," revealed Certikin Managing Director Neil Stephenson.
"This is, after all, a building built with our customers very much in mind and we want them to reap all its benefits too.
"Tungsten Park is ideal in meeting the complex needs of our growing business. We now have a building we can be proud of. We are in the best shape possible to go forward, with room for further expansion and a determination to fulfil the industry's needs."