Certikin's best ever prize winners
Certikin International has presented a brand new Mercedes A Class car prize to multi-brand hot tub retailers Steve and Michelle Hammond of A Bigger Splash.
The dealership owners are now the lucky recipients of Certikin's best ever 'Win A Car' prize competition that was promoted for customers to enter outside the entrance of the Ricoh Arena during the first appearance of SPATEX in Coventry this year, in which Certikin promoted its exclusive distributor status for the Caldera Spas hot tub brand.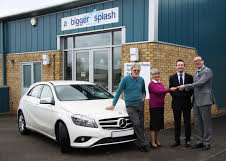 When their name was drawn out of a hat, the lavish car prize win was another celebration to help mark the hot tub retailing couple's tenth anniversary of being a Certikin dosing product customer.
With over 25 years of wet leisure industry experience, Steve and Michelle have been rewarded for their longstanding loyalty to the Certikin dosing systems that they have supplied to their customers since launching A Bigger Splash a decade ago.
Their showroom is based in Brompton-On-Swale, just outside Richmond and serves hot tub and pool customers in the North Yorkshire and County Durham regions, while specialising in Beachcomber, Coast Spas, Garden Leisure, and the South Seas range of hot tubs from Artesian Spas.
"We could not believe our luck when we found out that we had won," said Steve; "Whenever A Bigger Splash is asked to recommend a dosing system, there is no hesitation in recommending Certikin's."
CertiChem Sales Manager Mark Rowlands revealed that the competition had been the best in Certikin's history, while handing over the keys with EMEC's Simon Jay.
"Congratulations to Steve and Michelle, we wish them many hours of happy motoring," said Mark; "I must also say a big thank you to everyone who took part in the competition.
"It proved to be the best competition that Certikin has ever run."
Certikin Marketing Manager Cath Saunders also revealed that she was delighted with the impact of the car prize competition, but reported that it would not be repeated during SPATEX 2015.
"We've run our Certikin Win-a-Car Competition for two years now and this has certainly been the best one in terms of response from our customers," said Cath; "During the next SPATEX we will be focussing on the Caldera Spas brand and all of our wide range of product promotions."
Certikin will be promoting the Caldera Spas brand, and its extensive range of wet leisure products, when it will be appearing on Stand D10 and D14 during SPATEX 2015 at the Ricoh Arena, which is taking place from February 1 to 3.
www.certikin.co.uk