Climacube evolves for greater efficiency
Park Leisure Solutions has launched a new Climacube Prime Hot Tub and Spa Water Heating System to set higher standards for the industry and provide even greater efficiency benefits for customers.
The new Climacube Prime Hot Tub and Spa Water Heating System has evolved from its award-winning predecessor with improved specification, higher performance at lower temperatures (-15 degrees), as well as remote monitoring and full diagnostics via WiFi. It will now also record operational and user function history, to become a key factor in fault detection.
One of the significant benefits for customers, especially in the hot tub holiday market, is that it offers the very latest energy saving heat technology to help reduce hot tub operational costs. Unlike conventional heat systems, Climacube will heat a hot tub in around four to five hours from cold with a consumption of only 1KW per hour with a COP of over 3.5 in minus temperatures.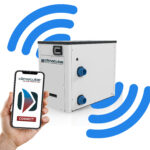 Poole-based Park Leisure Solutions has declared that the system will dramatically reduce running costs, increase customer usage, reduce the carbon footprint and enable customers to use their hot tub all-year-round, at the desired temperature without the concern of cost.
Once installed and full diagnostics enabled, should there be an operational issue, remote monitoring and a diagnostics check can be easily carried out by the team at Park Leisure Solutions, and in many cases the issue rectified online, saving customers time, money and minimum inconvenience for their hot tub holiday guests. Should an engineer be required, any replacement parts would be indicated through the diagnostic check, keeping down time to a minimum and the engineer informed of the issue prior to their visit.
Fully tried and tested and with thousands of UK installations, Climacube Water Heating Systems are designed to be integrated into any hot tub or spa and will negate the use or expense for any existing electric element. The hot tub will work in exactly the same way but by introducing Climacube customers will have the benefit of heating their hot tub utilising the latest energy efficient technology.
"All hot tub and spa manufacturers have different build qualities and insulation methods, which actually affect the overall running costs, which means that some hot tubs cost more than others to run," explained a Park Leisure Solutions spokesperson.
"However, because Climacube heat technology works 365 days a year, 24 hours a day with a fraction of the power consumption needed to run a conventional 3KW electrical hot tub heater, energy savings of over 80 per cent can be achieved."