Coast Spas hosts International dealer meeting
On January 8th and 9th Coast Spas held their annual IDM (International Dealer Meeting) in Vancouver BC, Canada at the Hyatt Regency Hotel.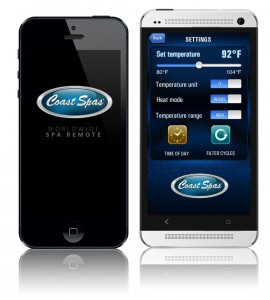 This annual IDM event gathers some of the top hot tub retailers from around the World to witness the launch of new Coast Spas products, network and share ideas with peers and take in presentations from industry leaders, suppliers and high profile speakers.
This year, dealers representing four continents joined CEO Don Elkington and his team in the unveiling of an impressive 2014 line-up.  Continuing to lead the industry in innovation, 2014 Coast Spas hot tubs now come with colour touch-screen controls and the option to sync a Bluetooth device directly to the main spa controls.
New models such as the gigantic Mirage Curve has enough room to seat 8 large adults in their own dedicated hydrotherapy seats and includes a lounge, raised curve design, exclusive 24″ waterfall and can be equipped with a push button retractable marine-grade LCD TV.  2014 hot tubs now come with the very best Luxury Trillium Massage Jets, larger safety light, Self Cleaning Sweeper Jet and a commercial-grade pressurized Hydro Cyclonic Filtration System.
Coast Spas feels strongly that their products should be tailored to fit the lifestyle of the spa buyer and no one should be required to make exceptions or compromises to get exactly what they want from their hot tub.  To support this, Coast Spas continues to offer a wide variety of popular features that can be added to nearly ever spa, along with more options for acrylic and cabinet colors to ensure that a Coast Spa reflects the needs, wants and personality of the end user.  New features such as lava jets, new lighting and stereo offerings, a new UV and Ozone combination purifier and much, much more.
During the two day event, Coast Spas also announced 6 new models that will be added to their price conscious brand NorthWind Hot Tubs™. These additions nearly double the NorthWind Hot Tubs™ line up and 2014 spas will come with improved standard features and a host of new optional features.
Coast Spas swim and health spa brand Wellness Spas® also announce the release of two new swim spa models.  One huge 17′ dedicated swim spa model and a 19′ dual zone swim spa and hot tub model. Coast Spas also unveiled their new Worldwide Spa Remote which allows owners of both Android and iOS devices to connect to their hot tub from anywhere in the world (with internet access) to remotely monitor and operate their spa.  The Coast Spas Worldwide Remote App is available for free on both the Apple App Store and the Google Play Store.  The application is full function, meaning that users can adjust their spas temperature, adjust filtration cycles, toggle lights and jets and see exactly what is happening with their hot tub at anytime.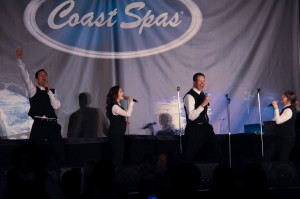 In addition to the launch of new 2014 products, IDM attendees were treated to world-class vocal performances, gala awards dinner, presentations from industry executives all within the spacious and beautiful Hyatt Regency Ballroom.  Dealership owners also absorbed an inspiring and motivational presentation from entrepreneur and sales guru,  Jeff Knight (founder and owner of the popular SpaBerry brand of hot tubs).
Coast Spas also sought out renowned author, speaker and retail futurist Doug Stephens to share his groundbreaking vision on the changing landscape of retail sales.  Doug Stephens is the author of "The Retail Revival" a bestselling book that gives readers a glimpse into how the modern retail world is changing and how to evolve your business to thrive in a new as age of consumerism begins.
Coast Spas' network of industry professions departed with a renewed entrepreneurial spirit, fresh ideas for their respective establishments and excited to begin offering Coast Spas innovative 2014 Collection to their customers.
This is what some of the delegates had to say about their IDM experience:
"I was impressed by this year's IDM because of the positive atmosphere that was once again created. Everybody at the IDM loves Coast Spas and sharing different opinions with others from around the world provided not only positive thoughts but I walked away with plenty of new ideas how to improve my sales with Coast Spas in 2014. The same goes for the speakers that presented. Since I am more Sales and Marketing oriented I loved the Sales presentation of the SpaBerry CEO as well as the presentation of Doug sharing his view of the global market development since the Baby boom in 1952. This has already changed my mind on some subjects moving forward."
Barry – the Netherlands

"I'm certain that the time I spent out of my business in Canada will prove to be the best time I have spent working on my business this year."
Mark – United Kingdom

"I  am always so proud to sell Coast Spas but even more (if that's possible) to do so after returning back home. We are leading the group in this Industry and that's the spirit I always take back with me."
Reut – Israel