Contrasting product temperatures at SPATEX
Superior Wellness will be hoping for a hot reception for its launch of Hekla Saunas at SPATEX 2023 while lowering the temperature for new Chill Tubs.
According to Superior Wellness, Hekla Saunas have been inspired by nature using Baltic sauna traditions. They have been built with natural materials in a sustainable way and are available in a choice of barrel and cube saunas.
Superior Wellness Sales Director Gareth Ward has highlighted that pre-orders are heating up ahead of the saunas being showcased at SPATEX 2023, hosted at the Coventry Building Society Arena from January 31 to February 2.
"We are delighted to launch Hekla Saunas and they are already proving to be popular with pre-orders," said Gareth; "It is important that we built the saunas using natural materials with sustainable practices.
"It is also a great combination to have a sauna alongside a hot tub.  Our purpose is to improve wellness for all."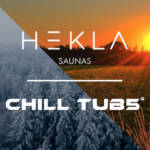 As part of its SPATEX exhibitor presence, Superior Wellness will also be promoting the launch of its latest ice tub brand to this growing market in the form of Chill Tubs, to target the rising popularity of ice baths as a way to promote recovery and reduce muscle soreness after intense physical activity.
Produced from aluminium, with a teak top and a black aluminium surround, the Chill Tub are suitable for indoor or outdoor use. Its temperature settings go as low as 5 degrees and the water capacity is 400 litres.
Superior Wellness has also reported that the Chill Tubs incorporate a built-in patent pending ozonator for clear water plus an insulated cover to help reduce running costs.
"It was an invigorating experience and really helped to reduce muscle soreness following an intense workout," reported Superior Wellness Managing Director Rob Carlin after personally testing the new Chill Tub.
"It helped to reduce my recovering time and I am now going to use the Chill tub regularly as part of my wellness routine."
Gareth Ward added: "We have noticed that the popularity of ice baths has hugely increased recently, and we wanted to introduce a high-quality product to the market.
"Our brand of saunas, Hekla has been formed using sustainable and natural materials which is important to us at Superior Wellness, we are looking forward to offering the range to our partners.
"We always listen to feedback from our customers and partner network to help inform our decisions on innovation."