Dealer options boosted after historic previews
Hot tub and swim spa manufacturer Coast Spas has followed up its historic double international previews of innovative product enhancements with a bumper crop of launches for dealers to capitalise on booming demand this year.
In time for the spring season, the Canadian manufacturer has been busy preparing the product lines for a new batch of groundbreaking designs including the 'Coastal Smoke Cabinets' with the industry­-first nine inch-wide shiplap, and the innovative 'Carbon Fiber Corners'; as well as a new 'Aromatherapy Infusion System' and the launch of an advanced online ordering, quoting and specification sheet program created exclusively for Coast Spas Dealers.
As part of its commitment to lead the industry in innovation this year, Coast Spas luxury hot tubs are now being produced with colour touch screen controls and the option to sync a Bluetooth device directly to the main spa controls.
New models such as the Alpha come standard with shiatsu massage nodules formed directly into the acrylic surface, while Coast Spas maintains the policy of manufacturing its hot tubs with the commercial­ grade pressurised Hydro Cyclonic Filtration System as well as Luxury Trillium Massage Jets, the Self Cleaning Sweeper Jet and many more standard features.
Among the many developments, dealers and their customers have two new acrylic colours that are available this year named 'Deep Waters', which is blue; and 'Inca Gold', which is bronze marbled with dark earth tones. 
The new nine inch-wide board cabinets in three solid colors of Chestnut, Grey, and Black, are also being produced for the new Coastal Smoke Cabinet.
Along with the Coastal Smoke Cabinets, Carbon Fiber Corners, and the Aromatherapy Infusion System with new Spa Scents,  the many new features and product developments for dealers to promote this year also include: a new Cabinet Thermal Barrier,  an insulating barrier applied to the inside of the cabinet to hold in heat; a new Bromine Generator System with independent LED push­button controls; a new and improved O3 One Advanced Plasma Discharge Ozone System; the new and Improved AquaSole Massage Carousel Jets; a new Coast Guard Bottom, which is a solid formed one­piece bottom that is now standard on Coast Spas; new Clip­On Cabinet Panels, a new Speaker Drainage System; plus a new Bluetooth Stereo System with improved Marine­Grade Lit Flushmount Speakers.
While the flourishing hot tub range has been ramped up with major developments, an improved lounger design on both the Wellness II and Wellness Infinity swim spas and an additional swimming resistance jet added to the Wellness Infinity, world's only Infinity Edge Swim Spa, has also gone into production for this year.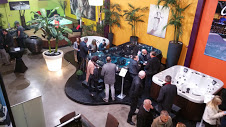 They were among a bumper crop of enhancements previewed at the Coast Spas annual International Dealer Meeting event, pictured, which gathered top hot tub retailers from around the world to witness the exclusive launch of new products, while also networking and sharing ideas with peers; as well as taking in presentations from industry leaders, suppliers and high profile speakers.
This year, dealers representing four continents joined Coast Spas CEO Don Elkington and his team in the unveiling of an the impressive 2016 lineup during two historic separate events in Vancouver, Canada and Colmar France.  It marked the first time that Coast Spas has hosted two IDM events in succession and is a reflection of the massive growth in dealer acquistion Coast Spas experienced in 2015. 
In Vancouver, Coast Spas invited their authorised retailers to stay at the incomparable Opus Hotel in Yaletown, one of the highest rated boutique hotels in the world, and to participate in a two-day event held at the historic Roundhouse Center.  In Colmar Coast Spas invited all of their international dealers to the beautiful Hotel Barrierre set in the incredible French countryside.
"The IDM event in France took place in the spacious hotel meeting room and new 2016 products were on display in the incredible showroom of one of our top retail locations Coast Spas France owned by Richard Fillol and his lovely wife Valerie," reported Coast Spas Marketing and Communications Manager Oran Wakelam.
"During both events, Coast Spas dealers were able to take in all the new features available on our 2016 spas and swim spas."
Meanwhile, following on from the promotion during the 20th anniversary edition of SPATEX a host of Regency Collection hot tub and swim spa options from the Coast Spas production line have been launched to the British market by A5 Spas chief and multi-award-winning Coast Spas retailer Mark Anthony.
Prices for the new range of Regency Collection hot tub and swim spa models range from just under £4,000 to £12,000. The Typhoon Series three-pump model with 56 jets named the Knight, which can accommodate seven or eight people, has the highest hot tub price tag of £10,995.
The Cyclone Series two-pump models with 46 jets include the six-seater Queen, priced at £6,795, the seven-seater King, retailing at £6,795; the Princess, which seats five or six people and is priced at £5,995; and the Prince, which can accommodate six or seven people and also costs £5,995.
In the Tropical Series of one-pump model options with 30 jets are the Grand Duchess, which can accommodate five or six users and is priced at £5,295; the six-seater Grand Duke at £5,295; the four-seater Viscount, priced £4,995; the Baron, which can seat five or six people for £4,395; and the three-seater Baroness model that is priced at £3,995.
Dealers also have the choice of a two swim spa models below the £12,000 price mark, which are the Emperor, priced at £11,495 and Empress retailing at £11,995.
Mark; who runs three dedicated wet leisure retailing outlets including his main site in Dordon, Warwickshire; revealed that dealers would be able to tap into a large inventory of stock that is being stored at a bonded warehouse in the UK to service showroom demands this year.
"We will be ensuring that there is a large amount of stock retained in the UK at our bonded warehouse," said Mark. "So that we can provide a constant supply of models to dealers for their customers."
"This is a new line of dedicated hot tubs and swim spas for the UK from the pedigree production facilities of Coast Spas in Canada that can ensure increased profitability for dealers that gain them for retailing in their exclusive areas."
For more information about the new line of entry-level hot tub and swim spa models from Coast Spas UK contact Mark Anthony directly on 07827523523 or email: mark@a5spas.co.uk