Dealer search campaign ramped up
Hot tub manufacturing giant Watkins Wellness has ramped up its search for swim spa dealers to promote advanced award-winning aquatic fitness technology that has been incorporated in the new range of Endless Pools models.
Since acquiring the Endless Pools brand last year the world's leading manufacturer of hot tubs has overseen the development of a new line of fitness systems with swimming and low-impact exercise options within the Endless Pools Fitness Systems and SwimCross Exercise Systems fledgling ranges that incorporates advanced swim-in-place technology.
Earlier this year Watkins Manufacturing Corporation announced that is would be rebranding itself as Watkins Wellness with a new logo and tagline 'Feel Good. Live Well'. These new Endless Pools product launches are now being seen as a major example of the company's commitment to achieving major success in the swim spa market to match its market-leading achievements in hot tub sales.
During the recent Piscine Global wet leisure showcase in Lyon the pedigree Watkins Wellness hot tub brands HotSpring and Caldera Spas were being heavily promoted while prospective dealers were also being targeted to help increase the network of Endless Pools retailers who are servicing the booming demand in the flourishing swim spa market.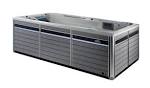 The California-based manufacturing heavyweight highlighted that it is focused on providing the best swim-in-place experience, coupled with multi-functional aquatic exercise options and modern styling for the cutting-edge Endless Pools Fitness Systems, pictured, and SwimCross Exercise Systems.
These new fitness systems, including the Endless Pools Fitness Systems E500 and E700 models, as well as SwimCross Exercise Systems X200 and X500, are now being promoted as 'next generation' technology and design. The E500 and X200 have already made an immediate impact by being bestowed with WhatSwimSpa? Best Buy Award-winning status.
Coming in at 4.58 x 2.26 x 1.47m and incorporating three spa seats, the E500 has gained its first WhatSwimSpa? Best Buy Award in the £25,000 Plus price bracket of the 2016 edition of the consumer magazine that highlights its newly-launched design functionality.
The Aston-based Endless Pools design team and specialist collaborators have transformed the latest models, including the E500 that incorporates a 5HP Hydraulic Power Unit and the three Hydromassage Seats, into a total personal fitness system that has a stunning appearance and includes an underwater treadmill, swim tether, rowing kit, and an advanced swim-in-place experience.
The WhatSwimSpa? Verdict highlights that the E500 'lives up to its iconic name with the swim quality of the Original Endless Pool combined with the convenience of a beautifully designed acrylic fully portable unit'. The Verdict also states that the E500 can 'move a huge amount of water through a central grille that straightens and smooths the water's flow'; while declaring that the result is 'an even, river-like current that is totally adjustable in speed, from a gentle flow to a racer's pace'.
Coming in at 3.66 x 2.26 x 1.27m and incorporating three spa seats, the X200 has also gained an inaugural WhatSwimSpa? Best Buy Award in the £15,000 to £24,999 price bracket.
The WhatSwimSpa? Verdict highlights that the X200 'packs an amazing amount of kit into a modest footprint and the attention to design detail on the outside cabinetry is just as impressive as the functionality on the inside' before proclaiming it to be a 'top notch model that is sure to top the sales charts'.
While Endless Pools Fitness Systems and SwimCross Exercise Systems have many exceptional design elements in common, they are primarily differentiated by the swim current generator. Endless Pools Fitness Systems feature the Endless Pools Swim Machine, while the SwimCross Exercise Systems swim current is powered by jets.
The Endless Pools Swim Machine pioneered the propeller-driven swim-in-place technology, and the Endless Pools Fitness Systems use a custom-made, hydraulically powered propulsion system that creates a laminar current of up to 5,000 gallons per minute (GPM) (19,000 litres per minute (LPM) that is wider than your body and deeper than your stroke. Multiple conditioning grills smooth and redirect the water, resulting in a swim current that is free of turbulence.
Five swim jets are incorporated in the SwimCross Exercise Systems models that are designed to produce a less turbulent swim current. So novice to expert swimmers can take advantage of the system's five output levels to suit their particular capabilities; as well as having the flexibility to utilise the workout options of rowing, resistance exercise, and relaxing hydrotherapy that are available.
An underwater hydraulically-powered treadmill has been incorporated into the Endless Pools Fitness Systems design to provide users with the multiple fitness benefits of low-impact running and walking options. Users have the capability to choose from a number of treadmill speed options from gentle walking mode to a more intensive run.
"Endless Pools Fitness Systems represents a breakthrough in combining beautifully functional design with advanced swim-in-place technology to create a home wellness system that owners can be proud to have as a centerpiece of their garden," said Watkins Wellness Executive Vice President Mike Dunn.
"Customers shouldn't have to compromise style for functionality. We believe in providing customers with a product that is stylistically better and extraordinarily versatile with swim and exercise options suitable for any customer."