Digital promotion after excellence acclaim
Award Leisure has achieved prestigious acclaim for innovative digital sales and marketing initiatives ahead of launching a special limited VIP Deal for prospective customers to gain quick delivery with free hot tub accessories.
The WhatSpa? Professional and WhatSwimSpa? Professional family-run franchise network was bestowed with 'Highly Commended' recognition in the 'Digital Excellence' category at The Midlands Family Business Awards presentation ceremony. The award category is for family businesses that have demonstrated how the digital world, such as website and social media activity, has had a positive impact on the business.
Judges were also looking for how the digital presence promotes family values and the family members drive and support the commitment to digital excellence within the business.
"We are so proud to be acknowledged for our successful digital transformation and will continue to strive for a brilliant digital customer experience," said Award Leisure National Sales Manager Charlotte Anthony, who is currently presenting a new online promotion on 'Why you should choose a Beachcomber Hot Tub'.
Linked in with their latest digital promotional activities, Award Leisure has launched VIP 48-Hour Only Mega Deals providing prompt 'next month delivery' guarantees with a special £595 discount and free upgrade features worth £610.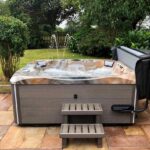 These include a spa bag worth £175, two tiered steps worth £145, a cover lifter worth £145, and a water table worth £95. As part of the sales initiative The Westwood, pictured, has a price of £5,995, The Windsor is £7,995, and The Sterling is £9,995.
Meanwhile, Award Leisure has gained additional sales and marketing boosts for its British Hot Tubs and Beachcomber Hot Tub designs and British Hot Tubs swim spa models, which are supplied through the thriving franchise network, after gaining 'magnificent seven' 2023 WhatSpa? Best Buy Awards acclaim and additional accolades with a 'hat-trick' of 2023 WhatSwimSpa? Best Buy Awards. 
Four models from the thriving British Hot Tubs options and three designs from the iconic Canadian-manufactured Beachcomber Hot Tubs range have been bestowed with illustrious Best Buy recognition within multiple prices in the latest edition of WhatSpa? magazine.
Taking the Best Buy plaudits quadruple from the British Hot Tubs range, designed, created and exclusively supplied by Award Leisure, are the Jubilee, Westwood, Balmoral, and Britannia. From Beachcomber, the 340 Leep, 380 Hybrid, and 750 SLB Hybrid also gained Best Buy status.
Gaining a Best Buy in the sub-£6,999 price bracket, the WhatSpa? Verdict highlights that the value of the six-seater British Hot Tubs Jubilee 'takes some beating' and reports that it has spacious corner bucket seats,
After achieving back-to-back Best Buy Awards, the Westwood is also praised in the WhatSpa? Verdict in the £7,000 to £9,999 price range for its value and being 'jam packed with goodies'.
Award Leisure has also gained acclaimed for its British Hot Tubs swim spas after being bestowed with 2023 WhatSwimSpa? Best Buy Awards for the British Hot Tubs BHT400, in the sub-£24,999 price category; the British Hot Tubs BHT600, in the £25,000 to £34,999 price range; and the British Hot Tubs BHT680 in the £35,000 Plus category.