Discounts after milestone presentation
Marquis has granted its 1,100 Make-A-Wish® with the delivery of a luxury five-person hot tub and has been rolling out discount deals to mark the special milestone.
A Marquis Crown Resort, which incorporates two full-body lounges and specialised massage seats for different therapy needs, and was delivered by Acme Pool & Spa Company as the milestone Wish donation to Zophia, who has a nervous system disorder.
Zophia was born with the rare nervous system disorder that affects her mobility, speech, and sleep. With the knowledge that swimming and being in water bring her joy, her family contacted Make-A-Wish® Metro New York, their local chapter, who granted her wish with the help from Marquis Hot Tubs.
It marks 1,100 wishes granted by Marquis and Make-A-Wish since their partnership began 23 years ago. Since then, Marquis has provided over $7.2 million in donations and discounts to Make-A-Wish® America, Make-A-Wish® Canada, and Make-A-Wish® UK.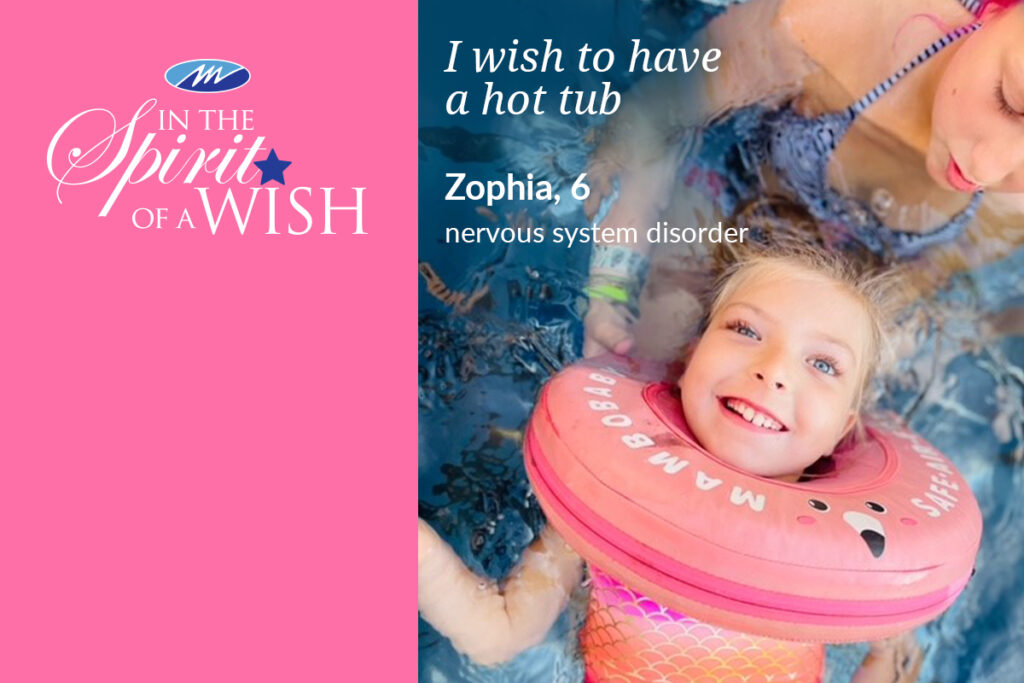 Having her own Marquis Crown Resort hot tub now provides Zophia with physical and emotional benefits; as well as being able to enhance interactions with family and friends.
"She has more independence in the water," reported Zophia's mother Alexx; "Being able to interact with her friends, siblings, and cousins without being in a chair and without restrictions, is so good for her physically and mentally. It's amazing for us as parents to see how freeing that is to her."
After shipping, Marquis relies on its dealer network for final installations and Acme Pool & Spa Company owner Tyler Armstrong was happy to help ensure the drive of a six-hour round trip was a smooth experience.
Based in New Hartford and Rome, New York, Acme Pool & Spa Company has been an authorized Marquis Dealer since 2019. In addition to in-ground pool construction and landscaping services, they offer above-ground pools, hot tubs, and bicycles.
"We absolutely loved seeing the enjoyment it brought Zophia and her family," divulged Tyler.
"It makes you realise you shouldn't take for granted what you have. My team understands the importance of these situations, and we hope to do more in the future. It doesn't matter how far away the delivery is. If possible, we'll help with every single one."
Marquis CEO and father of seven Rick Gallagher has expressed his appreciation to the dealership and the Make-a-Wish team for the help with the 1,100 wish donation and providing inspiration to provide more hydrotherapy benefits to children with critical illnesses.
To celebrate the 1,100 wishes milestone, Marquis has been offering $1,100 off two popular models during its "In the Spirit of a Wish" campaign during April at participating dealers.
These models are the Crown Spirit four-seater hot tub and the Crown Wish five-seater hot tub. In addition Marquis has pledged to donate $100 to local Make-A-Wish chapters for every Spirit and Wish hot tub purchased during April.
"Wish kids like Zophia inspire us to make hydrotherapy available to more children with critical illnesses," said Rick Gallagher.
"It's a privilege to be part of the team that includes Marquis, dealers like Acme Pool and Spa, and the good people at Make-a-Wish who have come together to make this happen 1,100 times. In a world with its share of brokenness, this sort of work inspires all of us to work harder to serve well and make an impact how we best can do so."