Double addition for Premium range
Superior Wellness has launched two new hot tubs for the Platinum Spas brand with the Oslo and Colombo now becoming the latest additions to the flourishing Premium range.
With the capability to accommodate seven people the Oslo and Colombo are both large all-seater models, and are being promoted to families and owners who are seeking hot tubs for group gatherings and entertaining. They are being proclaimed as providing exceptional hydrotherapy experience and have been designed with enhanced energy-efficiency.
The Oslo incorporates 64 jets, water features and LED lights, and utilises three 3HP pumps to ensure the jet pressure is incredibly powerful. Similar Premium range design features are included in the Colombo but it has a lower count of 48 jets and has two 2HP pumps along with a 0.53HP pump. Like their Premium counterparts they also feature the new corner panel lighting that has been introduced to the range.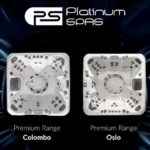 Both the models, pictured, feature the Platinum Premium Shield insulation that has five different types of insulation to retain the heat within the cabinet by the Superior Heatlock Insulation Process (SHIP) and Superior Wellness believes owners will notice a considerable difference in the heat retained in the hot tub as well as a reduction in energy costs.
"We are very excited about the launch of the Oslo and Colombo hot tubs," declared Superior Wellness Sales Director Gareth Ward; "They are a great addition to the Premium range.
"All seater hot tubs are very popular, particularly in the USA. They are perfect for families and friends who want to spend time relaxing and enjoying the hot tub together.
"We always listen to feedback from our customers and partner network to help inform our decisions on innovation."