Golden Coast is promoting the launch of the Panacea Twin by Tylö that combines a Tylö Panacea steam room with the modular Tylö Harmony sauna, for a double luxury experience.
The Panacea Twin has a timeless, minimalist style, and the unit is offered as a bespoke design with flexibility over the size of each part. The frame can be modelled after the sauna or the steam room to harmonise the halves of the cabin.
Golden Coast has revealed that the Panacea steam room uses innovative chromotherapy – light, sound and colour are combined to deliver a greatly enhanced spa experience. With near infinite combinations of sauna interiors, wall panels, and layouts, prospective owners have the capability to choose their perfect Panacea Twin. Steam room interior features, meanswhile, include light and elegant Corian® benches.
"With the Panacea Twin, users can add a double dose of luxury to their homes," explains Golden Coast General Manager Adam Clark; "And with so many options they'll be guaranteed to find the perfect combination to match their tastes."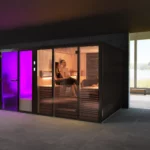 As part of the promotion for the Panacea Twin, pictured, Golden Coast is highlighting that it is extremely easy to install, and can be built in just a few hours.
"Tylö are the experts in steam and sauna products," declared Adam; "They understand that everyone will have a different idea of their ideal features and aesthetic, which is why they offer so many high-quality options and choices."