Dual brand location pays off
Multi-brand hot tub and swim spa retailer Chris Brady has achieved a phenomenal annual sales total thanks to his decision to adopt a new showroom site to supply the USA manufactured Marquis and Vita Spa products.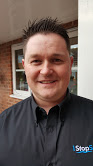 The 1 Stop Spas proprietor, pictured, and Vita Spa's 'Top UK Dealer' in 2014 incorporated the Marquis options in 2015 after relocating to a larger showroom at Mill Lane Industrial Estate in Billinghay in the spring. He has now reaped the rewards for the ambitious move and reported an increase in customers who are seeking to purchase their second or third hot tub models.
"Our decision to move to larger premises and dual-brand by including Marquis to our existing Vita Spa range of options has paid off for us with significantly increased sales in 2015," said Chris, who is among the Talking Heads in the latest edition of Hot Tub Retailer magazine.
"It's been phenomenal and we're finding that demand for swim spas is increasing and consumers are turning to quality brands for their second and third hot tub purchases and so we are catering for them with two leading USA brands.
"Last year we achieved stunning success in the wet leisure market with a dual-branding strategy at our new showroom in Billinghay. We've set out our display area in the showroom so that any visiting prospective customers can view a good selection of quality hot tub models from the Vita Spa and Marquis hot tub and swim spa brands that we currently supply.
"We've taken on the Marquis brand and products to complement the success we are achieving with the Vita Spa range and it has really worked for us. We've also been delighted to be involved in the 'Spirit of a Wish' scheme that Marquis advocates, including a donation of a hot tub for Text Santa.
"As well as helping children it also shows that the industry is giving something back and is great promotion for our showroom."
Chris reported that he has successfully utilised his association with Olympic swimmer Sophie Allen and the WhatSpa? Leads service to boost his phenomenal Marquis and Vita Spa hot tub and swim spa sales during 2015.
"The WhatSpa? Leads have been working really well for us on top of our association with Sophie Allen and all of our promotional and sales activities," divulged Chris.
"It's another tool to help to increase our sales and the beauty is that it tells us what price points people are looking for, so we can target them with specific models."