Dual brand promotion ramped up
Dual brand retailing specialist Complete Spas is helping to ramp up promotion for Artesian Spas and Marquis with a Summer Open Day after gaining top dealership honours from the respective USA manufacturers.
Established just over a decade ago by husband and wife team Pete and Rachel Grinnall, Complete Spas, which is hosting its Summer Open Day on July 20, has built up a strong reputation in the wet leisure market for providing quality products and customers service and capped off an outstanding sales achievements in 2018 by being bestowed, at separate ceremonies earlier this year, with a 'Dealer of Excellence' Award from Artesian Spas; and an 'Outstanding Performance' accolade from Marquis.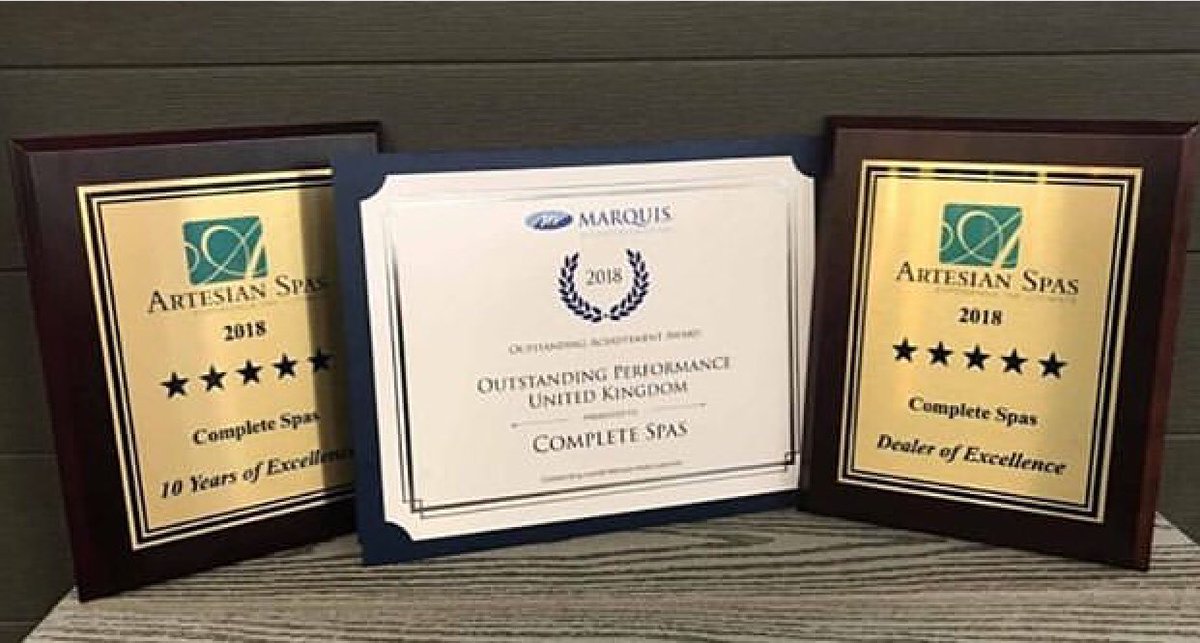 To mark a decade as a supplier of Artesian Spas, Worcestershire-based Pete; who is the current BISHTA Committee Chair, as well as serving on the BISHTA Technical Committee; and Rachel have also gained the 'Ten Years of Excellence' honour, pictured left, from distributor Artesian Spas UK in Doncaster.
Getting off to a good start last year Complete Spas gained a Gold Award in the 'Hot Tub Happiness' category during the 2018 BISHTA Awards ceremony and also helped to give Marquis a trade and consumer awareness boost after landing a Bronze Award in the 'Hot Tubs Change Lives' category. The Marquis hot tub supplied and installed by Complete Spas has allowed a young girl with cerebral palsy to enhance her lifestyle with fun hydrotherapy exercising.
Complete Spas have also been proclaimed in the past as the UK's 'Most Loved Hot Tub Business' from a survey by TheBestOf and have landed numerous other prestigious trade awards in recent years; including a major European trade accolade when Complete Spas was bestowed with a 2016 EUSA Gold Award during the ceremony held in Bologna for a hot tub and sauna installation that has been a major promotional asset for the dealership and has been featured in WhatSpa? magazine.
Ahead of the impending Summer Open Day, the Complete Spas team have been attending major outdoor events and will be exhibiting at the Cotswolds Show this weekend, at Cirencester Park, on July 13 and 14; after just recently exhibiting at the Hanbury Show.
Visitors to next week's promotional event at the Complete Spas headquarters based at the Cadbury Courtyard, in the Blackminster Business Park in Evesham; will be entered into a free raffle draw, while Complete Spas will be putting extra fizz into the sales and marketing event with a Prosecco bar as well as providing a host of freebies special offers on hot tub sales and discounts on chemicals and accessories.
Meanwhile, to help boost extra awareness for their dealership and the Artesian Spas and Marquis product ranges throughout the year, Complete Spas are running an advertising campaign in the 2019 edition of WhatSpa? that has bestowed inaugural WhatSpa? Best Buy Awards on the Artesian Spas Elite Eagle Crest and Elite Pelican Bay models from the new Elite Range by Las Vegas-based May Manufacturing.
Coming in at 214 x 214 x 108cm, the Elite Eagle Crest incorporates the unique Direct Flow system within its lounge seat design; which can accommodate six people and has a 1,268 litre capacity.
The WhatSpa? Verdict in the £10,000 to £14,999 price category, proclaims that the brand has 'really raised the bar' with the new range and also states that it 'delivers with an awe-inspiring after-dark light show with an array of underwater and exterior lighting plus backlit water fountains and a branded 20-inch waterfall'. It also enthuses that the scope of the specifications and design is 'first rate'.
In the higher £15,000 Plus price category, the Elite Pelican Bay has also gained a 2019 WhatSpa? Best Buy Award accolade and is proclaimed as a 'stunning eight-seater including a comfortable lounge seat.
With an imposing design that makes it a 'huge family spa that has to be seen to be appreciated' according to the WhatSpa? Verdict, the Elite Pelican Bay comes in at 275 x 232 x 108cm and has a 1,912 litre water capacity.
Other models in the new Artesian Elite range include the Dove Canyon, Piper Glen, and Quail Ridge, which are all fitted with the patented Direct Flow Personal Control technology; which is being proclaimed as the 'most sophisticated system ever devised from controlling and moving water flow within the spa' as part of a major marketing campaign by Artesian Spas UK; which includes promotion of the Island Spas range to consumers in the latest edition of WhatSpa?
The consumer magazine has also bestowed a WhatSpa? Best Buy Award to the four-seater Garden Spas Camellia, which incorporates lounge seating design and comes in at 183 x 183 x 81cm and is praised for being the 'most versatile' of its range in the sub-£5,999 price category; due to the fact that it has a unique corner design that has helped it to land successive Best Buy accolades.
Complete Spas; which also runs a Hot Tub Hire service; will be promoting the Artesian Spas TidalFit range of swim spas; as well as the Marquis ATV range of swim spas during their Summer Open Day along with a wide scope of Artesian Spas and Marquis hot tub options, which include multiple WhatSpa? Best Buy Award-winning designs.
These include the new Marquis Woodstock Elite, which has been bestowed with a 2019 WhatSpa? Best Buy accolade in the £8,000 to £9,999 price category; as well as the Marquis V94L from the Vector Range, in the £10,000 to £14,999 price category; and the Marquis Epic Ultimate MS BA, in the £15,000 Plus price category of the consumer magazine.
Meanwhile, May Manufacturing; which produces the innovative Dual Temp L-Shaped Swim Spa that combines a hot tub and swim spa and gained a 2018 WhatSwimSpa? Best Buy Award for the manufacturer last year;  has achieved 2019 Best Buy Award-winning status for the TidalFit range again; including the TidalFit EP-12 SE, in the sub £19,999 price category; and the TidalFit DTL-8 Dual Temp L-Shaped swim spa, in the £30,000 Plus price range.
The WhatSwimSpa? Verdict highlights that the revolutionary TidalFit DTL-8 Dual Temp offers customisable options and incorporates the Quad Swim Jet System as standard. It also notes that the cutting-edge design is also available with the optional new Variable Flow Swift Water Trainer, which delivers an even more powerful, variable speed swim system that is proclaimed to provide a 'balanced, stable swim current'.
Marquis has also been bestowed with WhatSwimSpa? Best Buy Awards for a successive year; including prestigious 2019 accolades for the Marquis ATV-14 Sport, in the £20,000 to £29,999 price category; and the Marquis ATV-17 Kona Ultimate, in the £30,000 Plus price range.
In the WhatSwimSpa? Verdict, the ATV-17 Kona Ultimate is described as a 'swim spa capable of testing even the best swimmers'; and the Verdict also highlights that the unique bowed side profiles of the ATV (Aquatic Training Vessel) range are more than just a 'stylised design feature' and that the impressive swim spa also incorporates the innovative Whitewater-4 Jets that are exclusive to Marquis.