Enhanced eco-friendly cabinet design
Aquavia Spa has enhanced its eco-friendly production credentials after creating a new cabinet concept in the form of the Aurora that incorporates 'green' thermal and antibacterial qualities.
The innovative Catalan manufacturer, which has achieved the ISO14001:2015 certificate for environmental management, is promoting the new cabinet as a concept based on a 'soft, compact, design' that is suitable for both outdoor and indoor installations.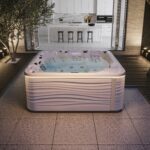 As part of its launch promotion of the Aurora design, the company is proclaiming that the Aurora is providing improved ecological, waterproof, thermal, and antibacterial qualities compared to traditional cabinets thanks to what it claims is an 'organic design that revalues the importance of water as a central element'.
"For our Aurora cabinet, we rely on Triple S Technology (Safe, Soft and Strong), because we believe that each piece of our spas deserves special treatment," said an Aquavia Spa spokeperson.
"The investment of several months of work is the result of Aurora, a piece of cabinet that proceeds from vegetable waste that mimics the impact of our spas on the environment. A polyurethane foam that respects the ecosystem thanks to its eco-friendly technology.
The latest design launch from the production facility in Cervera, near Barcelona, continues Aquavia Spa's 'Made in Europe' innovation policy that resulted in the previous addition of the Soft Rain hot tub cabinet, based on synthetic rattan, as well as the Urban cabinet to provide an alternative exterior design for swim spas.
Previously Aquavia Spa has developed and launched a duo of Exclusive range models in the form of the minimalist four-seater Home Spa, and the four-seater Suite Spa, to target owners seeking combined hydrotherapy and enhanced back massage capability.
It also follows the launch of a corporate rebranding initiative and the addition of the Essence hot tub, for up to five people, and Soft hot tub, for up to six people, for the Premium range as part of the strategy to ensure the constant growth of Aquavia Spa options, which are currently being promoted in the UK by WhatSpa? Professional dealership Euphoria Lifestyle based in Washington, West Sussex.