European accolades boost for UK trio
Three UK hot tub dealers have gained a marketing boost before the New Year after becoming one of the winners of prestigious awards by the European Union of Swimming Pool and Spa Associations (EUSA).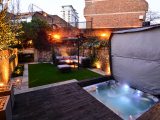 Jacuzzi specialist retailer Euphoria Lifestyle, which also supplies the European-manufactured Aquavia Spa range, has increased a long list of industry accolades after being bestowed a EUSA award for its entry, pictured, along with Hydropool Devon, and Zen Spas specialist Hot Tub Suppliers, who were among the 26 winners in seven award categories from across the current thirteen EUSA member countries during the recent European Pool & Spa Awards.
The awards are hosted annually at different pool and spa exhibitions across Europe and the 2018 event was the sixth edition of the ceremony that was conducted this year during Piscine Global Europe in Lyon, France.
In the Domestic Hot Tubs category the winners of the 2018 European Pool & Spa Awards were:
GOLD:  Vivell + Co AG – Switzerland
SILVER: Hydropool Devon – UK
BRONZE: Euphoria Lifestyle – UK
BRONZE: Hot Tub Suppliers – UK
While congratulating all the winners EUSA President Mille Örnmark highlighted the work of the 'world class' members throughout Europe that are helping to raise the profile of the industry.
"The pool and spa industry is an amazing community and I am honoured to be the president of EUSA," said Mille.
"The work that our members are doing is world class, and I congratulate all winners on their well-deserved awards.
"I am very proud to be a part of what EUSA represents across Europe and the fantastic work they are doing to lift the professionalism of our great industry."